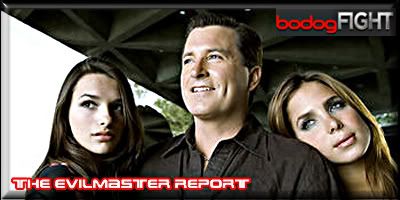 By Loretta Hunt

BodogFIGHT's begins consecutive production for the third and fourth seasons of its reality TV series beginning Feb. 8. The yet-to-be titled seasons will be shot in Costa Rica's tropical locale, the site of the fledgling promotion's first season, which ran on the Men's Channel, Canada's The Fight Network, and on the BodogFIGHT Web site late last year.

Sixty-four athletes worldwide have been selected and paired to fill the seasons' rosters, with three nights of fights taking place Feb. 16-18 in a ring staged on the beach. A few of the fighters from the reality series' first season, including Chael Sonnen and Trevor Prangley, are among those cast.

It has not been determined which fighters and bouts will be relegated to season three or four, while the rosters are still subject to change.

BodogFIGHT's second season "St. Petersburg" is now slated to debut on Feb. 13, with a broadcast deal through the new Ion Channel pending. The season will culminate with a live pay-per-view tentatively scheduled for April 7. PRIDE Heavyweight Champion Fedor Emelianenko (25-1) and Matt Lindland (19-4) have been named to headline the event from St. Petersburg, Russia.