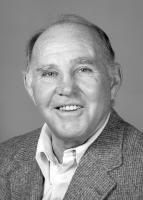 Former University of Minnesota wrestling coach Wally Johnson passed away Wednesday at the age of 91 in Edina from complications of Parkinson's disease. Johnson, who coached the Golden Gophers from 1952-86, guided Minnesota to Big Ten titles in 1957 and '59. The predecessor to current head coach J Robinson, Johnson is the school's all-time leader in wins with a 392-209-11 career record.

"Wally will be missed," Robinson said. "There was a fondness about him when people talked about him, which means he impacted a lot of people's lives in a very positive way. So when you come in and follow a legend, you want to make sure you fill those shoes. After he retired, he reveled in the fact that we took a next step and really enjoyed seeing the success of Minnesota Wrestling. The true measurement of a coach when he leaves is that he wants the program to continue to build and to get better, and Wally epitomized all of those things."

During his tenure at Minnesota, Johnson coached 28 individual Big Ten champions, including three-time winners Dick Mueller (1953, '57-58) and Larry Zilverberg (1974-76). He also led 25 different wrestlers to 31 All-America certificates, including three wrestlers who won NCAA individual titles: Mueller (1953), Evan Johnson (1976) and Pat Neu (1977).




(Read More)