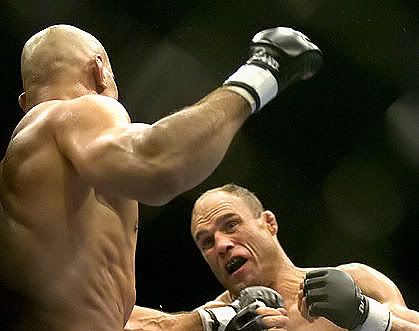 By: Brady Crytzer
Photo: Cozzone

On Saturday, March 3rd the Ultimate Fighting Championship takes its fistic show on the road when UFC 68: THE UPRISING takes place live in Columbus, OH. With several of its mega-fights in the Las Vegas, the UFC's gamble paid off when it was announced that UFC Hall-of-Famer Randy "The Natural" Couture's Octagon return would be against reigning champion Tim "The Maine-iac" Sylvia. Playing host to the event is the already sold out Nationwide Arena. Looking to enhance its Midwestern charm, the UFC also scheduled the returns of former champion Matt Hughes and Rich "Ace" Franklin. One of the best undercards of the year combined with the return of a true legend makes The Uprising one of the most significant cards in UFC history.

'The Natural'

Drawing excitement in a sport like MMA is by no means a difficult thing to do, but announcing that a hall-of-famer and perennial hero will be making his return, and tickets practically sell themselves. Throw in the fact that he is coming out of retirement, moving up in weight class and challenging the current heavyweight champion and you have history in the making. That is exactly what Randy "The Natural" Couture is doing. If there is one knock on Couture it is that he just doesn't know when to quit.

After suffering devastating losses at heavyweight, most mortals would've hung them up. Not Randy. Dropping down to 205 lbs., Couture shocked the MMA world by defeating "The Iceman" Chuck Liddell and "The Huntington Beach Bad Boy" Tito Ortiz. Following the Ortiz victory, Couture quickly became the man in the world at light heavyweight defeating Vitor Belfort in dominate fashion.

A new audience was introduced to the man that was already respected and admired when Couture acted as a coach on the hit reality series, The Ultimate Fighter. Responsible for pumping out fighters like Forrest Griffin, Diego Sanchez, Mike Swick, Josh Koscheck and Kenny Florian, Couture's time on the show made him one of the most respected and admired fighters on the planet.

After losing a rematch to Liddell, Couture dove right back into the talent pool by taking on world class wrestler Mike Van Arsdale, submitting him with a slick anaconda choke. In their third battle, Couture and Liddell completed the first great trilogy in MMA history when the 40-something Couture was KO'ed, finally conceding etirement.

But, with the competitive drive still burning, Couture has been anything but quiet about his chances to take the heavyweight title from current titlist Tim Sylvia.

Can he do it? Randy, Randy He's our man, if he can't do it, no one can.

'The Maine-iac'

Six-foot-eight, 270-pound Tim "The Maine-iac" Sylvia is known to have one of the most "up and down" careers in MMA. In his debut at UFC 39, Sylvia wowed made an impressive debut when he blasted bomb after bomb to the face of Hawaiian Wesley "Cabbage" Correira, forcing his corner to stop the fight. In his next appearance in the Octagon, the giant Sylvia shocked the world with his upset first round knockout victory over champion Ricco Rodriguez, giving him his first world title.

From there, the roller coaster ride began.

At UFC 44, in a match dubbed "The Battle of the Giants," the 6'8 Sylvia defended his title for the first time against a 6'10 Gan "The Giant" McGee. As predicted, the battle was a heavyweight slugfest with Sylvia KO'ing his larger opponent just minutes into the fight. In the days after the event, the MMA world stopped spinning when word that the UFC heavyweight champion had tested positive for a banned substance was made public. In a show of class and humility, a crestfallen Sylvia openly confessed and appeared to be genuinely remorseful; but, nonetheless, was stripped of his title.

When the smoke had cleared, Sylvia's next scheduled against Andrei "The Pitbull" Arlovski was cancelled just days before UFC 47 when, once again, "The Maine-iac" tested positive due to reserves of the substance stored in his body fat. At UFC 48, after all the tests came back clean, Sylvia battled Las Vegan Frank Mir in another shot at UFC gold. Mir, a jiu-jitsu specialist, quickly took the fight to the ground and applied a fight-ending armbar, breaking the arm of Sylvia in nearly four places. After months of rehab, tune-up fights and positive support from his team, Sylvia returned at UFC 51 to finally meet Arlovski for the heavyweight title. Sylvia was quickly blasted with a hard right hand that had him floored and submitted with a wrenching ankle lock. Once more, Sylvia had met reality head on. But, with vengeance (and more importantly a rematch) on his mind, "The Maine-iac" blasted his next two opponents. After brutally knocking out Lion's Den fighter Tra "Trauma" Telligman with a well-placed head kick in August, Sylvia continued his run by soundly outpointing Assuerio Silva in January. In what was considered a last chance rematch, Sylvia shocked the MMA world by knocking out then-king Arlovski at UFC 59 and then scoring a decision victory in an immediate rematch at UFC 61, just three months later. In November, Big Tim tattooed submission champion Jeff Monson for five grueling round en route to a dominate unanimous decision. Sylvia has not been quiet about letting media and opponents alike know just how important his world title is to him. Think you can dethrone "The Maine-iac?"

Step right up . . . .

How They Match Up

Couture has never been one to go down without a fight, and this will be no different. Couture has never been disrespectful to any opponents, but his very public bashing of Sylvia's style has many people wondering if he really does believe it. Couture is convinced that he will take this belt, and if he puts his mind to it, he certainly can do it. Because of the huge disparity in size and weight, this fight will be determined in the opening moments of this fight. If Couture puts the pressure on early, and keeps the champion backing up, he will control this fight. If Sylvia can assume the center of the Octagon and use his long jab, we will see a fight reminiscent of his performance against Monson.

Sylvia has real power, but his size really is the secret to his hands. Being 6'8, Sylvia can land a jab and a right on a much shorter opponent, but his lumbering gate takes away any third punch of combination of punches because he simply isn't balanced or coordinated enough to follow a moving opponent. What we have is a jab-cross from the champion over and over and over (see Monson fight) which is damaging but not enough to do anything but drain an opponent. Couture does not have spectacular takedowns against big men, so he will need to get Sylvia's big body into the fence and keep him there. The opening moments of each round will prove to be major factors in the fight. If Couture gets Tim down the fight will stay there. If Tim can command the center of the cage Couture will eat straight punches without being able to close the distance. It will be an interesting chess match in a very interesting main event.