NEW YORK -- It was Oscar De La Hoya's turn to take the podium, and he could hardly get a word in. Floyd Mayweather Jr. was busy yelling back at rowdy fans, posing for pictures and doing everything he could to annoy De La Hoya.

It's The Golden Boy against the Pretty Boy -- and, boy, what a scene it was.

"This guy has been under my skin for a while," De La Hoya said Tuesday at the Waldorf-Astoria. It was the first stop of an 11-city promotional tour in advance of their highly anticipated superwelterweight title fight on May 5 in Las Vegas.

"He's a little brat," De La Hoya added with a smile. "I'm going to teach him a lesson."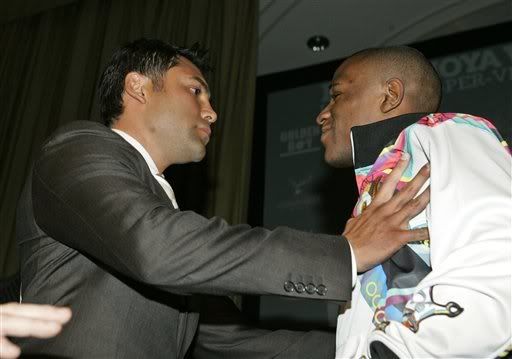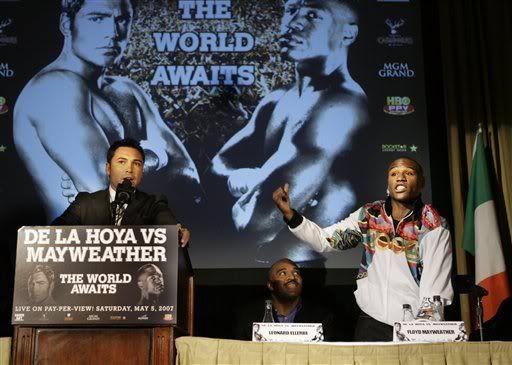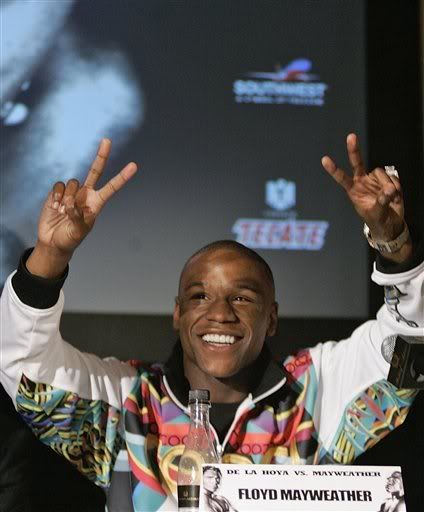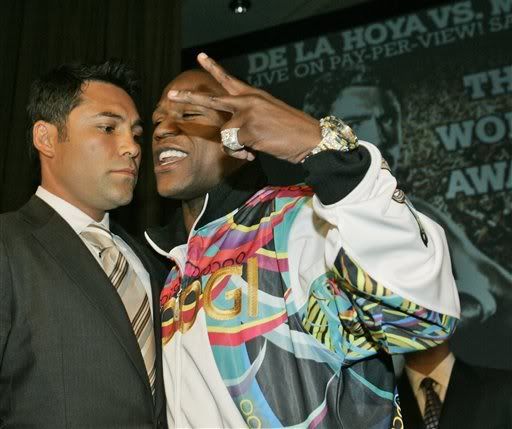 The trash talk flew, mostly from Mayweather's camp, throughout the press conference, which was marked by the type of lavish production -- music, lights and videos -- that's expected to accompany a fight with the slogan, "The World Awaits."

When De La Hoya (38-4, 30 knockouts) and Mayweather (37-0, 24KOs) square off at the MGM Grand for De La Hoya's title, the fight is expected to set pay-per-view records and be shown in a record 176 countries. It also sold out in three hours.

With a crowd of close to 200 media and several hundred more fans in attendance, a digital countdown board was displayed outside the press conference and huge promotional posters lined the walls.

Mayweather, looking to win a title in his fifth weight class, was the first to enter the huge ballroom to Queen's "Another One Bites The Dust." He strolled down the red carpet that led to the podium, stopping frequently to shake hands and pose for pictures soaking in the cheers and jeers.

He took off his brightly colored warmup jacket when he reached the podium, revealing a dark T-shirt. A few moments later, De La Hoya made his way in, wearing a sharp, black suit -- but not for long.

As soon as De La Hoya started walking, Mayweather whipped off his shirt and flexed for the crowd. When De La Hoya reached the podium, he took off his suit jacket and pulled his dress shirt out of his pants to expose his abs.

The wildness had officially begun, and it got wilder from there-- although both fighters eventually covered themselves up.

Leonard Ellerbe, Mayweather's cornerman, fueled the fire by questioning De La Hoya's desire.

"We know his heart can be tested because he's laid down before," Ellerbe said, drawing a chorus of boos from the largely pro-De La Hoya crowd. "You're going to have hell on your hands on May 5."

After a few careful words from Freddie Roach, De La Hoya's new trainer who'll begin working with him in San Juan, Puerto Rico, on March 1, it was Mayweather's turn.

"I'm the top dog in the sport," boasted Mayweather, considered the best pound-for-pound fighter in the world, a moniker De La Hoya once held.

When a fan yelled out that heart beats talent any day, Mayweather had the perfect comeback: "Well, 37 fighters had heart," he said. "And they all came up short."

While Mayweather recognized De La Hoya's past accomplishments, he also took frequent shots at him.

"He can have heart, he can hit harder and he can be stronger, but there's no fighter smarter than me," Mayweather said.

(Read More)