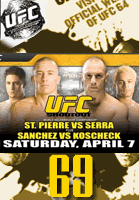 Tickets for UFC 69 at Toyota Center are a hot item.

More than 7,000 were sold on the first day of general ticket sales Feb. 5, and the current count stands at 10,000-plus. The $450 floor seats were gone almost immediately, and seats at the $50 and $150 levels also are sold out.

If sales continue to ramp toward 15,000, the UFC likely would entertain a return trip to Houston next year.

Georges St. Pierre defends his UFC welterweight title in the UFC 69 main event April 7 against Matt Serra.