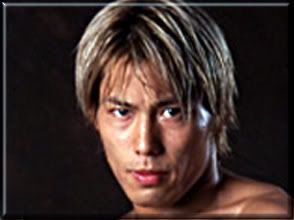 The well-traveled Takumi Nakayama is no stranger to crossing the Pacific. Now, with a much-needed win under his belt, he is looking to make another trip stateside.

Coming off a dominant decision win over Yoichi Fukumoto in GCM's CAGE FORCE this past weekend, before a surprisingly large crowd in Tottori, Japan's most rural and least populated prefecture, the Osaka native Nakayama revealed that he wants to once again start fighting avidly both in Japan, and in the United States. Several years ago, Nakayama made trips to the Midwest to compete in American Shooto affiliate HOOKnSHOOT, before returning to the United States to compete in KOTC in 2004, where he would go on to defeat Charlie Kohler to become KOTC's 155-pound champion.

Since losing his KOTC title to Mac Danzig in Oct. 2005, Nakayama hasn't returned to compete in the United States. However, the 33-year-old vet may be afforded the opportunity to do so very soon.

Nakayama is a participant in GCM's CAGE FORCE tournament at 155 pounds, which is scheduled to take place over the course of the year. It is the goal of GCM and their fellow Worldwide Cage Network constituents to ensure that the winners of the 155-pound tournament, as well as the 170-pound tournament that will run alongside it, get an opportunity to compete in the UFC. However, Nakayama may not have to wait that long, as he is reportedly in negotiations with Los Angeles-based Pro-Elite Inc., the backer of upstart EliteXC.

While details of Nakayama's potential participation haven't been revealed, he could be a part of the next EliteXC card on May 5, with the date falling in between the scheduled CAGE FORCE dates in March and June, which Nakayama may also participate in.