By: Dave Doyle

The formula that made Matt Hughes the man many consider the greatest 170-pound fighter in mixed martial arts history is pretty simple:

1. Shoot for the takedown.

2. If they don't go down, pick them up for a big slam.

3. Ground 'n' pound them until they quit.

The two-time former UFC welterweight champion got away from that game plan when he lost his title to Georges St. Pierre at UFC 65 in Sacramento last November in a decisive second-round TKO.

"I think, to be honest, my ego got the best of me," said Hughes, who is ranked No. 5 in the FOXSports.com MMA world Top 10. "I wanted to prove I could strike with him. I can strike, but that's not my biggest strength. I need to go back to what works for me and that's using my takedowns to set up my matwork."

The 33-year old, two-time former NCAA wrestling All-American from Hillsborough, Ill. begins his road back to a rematch on Saturday when he takes on Chris Lytle in one of the feature matches at UFC 68 at the sold-out Nationwide Arena in Columbus. And he knows what he has to do.

"I need to get back to basics," said the 41-5 Hughes. "I need to get back to what got me to the top."

After the loss to St. Pierre, Hughes said he would seek an immediate rematch for the title. But several factors got in the way. First, there was the matter of a previously contracted title shot for the winner of the 170-pound weight competition on The Ultimate Fighter season four. St. Pierre was scheduled to defend the belt against Matt Serra on Feb. 3, but pulled out of the fight with a knee injury, pushing the battle back to UFC 69 in Houston on April 7.

This meant Hughes would be looking at a layoff of at least seven months before getting his rematch — and that was assuming GSP comes out of the Serra fight unscathed.

"It was starting to get to be a long time between fights," said Hughes. "You don't want to be out of action that long. The more time passed and the more things happened, the more I liked the idea of fighting my way back to the top and taking on different competition before I step back into the octagon with Georges."

Hughes specifically requested a match with undefeated Diego "Nightmare" Sanchez, but was turned down. "Diego's said some things about me," said Hughes. "So I wanted to give him his chance. But the UFC said they had other things lined up for him right now. I want to fight him."

The former champ then was offered Lytle as an opponent, and Hughes accepted. Lytle, a 32-year old Indianapolis resident, is a strong boxer, yet 15 of his 22 wins have come by submission. His highest-profile losses were a blood stoppage against Joe "Diesel" Riggs at UFC 55 and a unanimous decision to Karo Parisyan at UFC 51.

Lytle's loss to Serra in the TUF finals back in November was hotly debated on the Internet, after he lost a split decision in which one judge scored the fight 30-27 Lytle and the other two 30-27 Serra.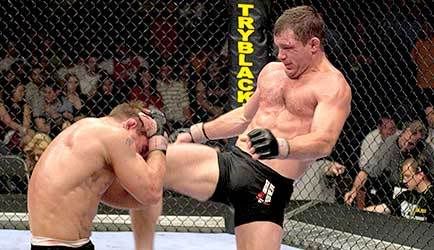 Current UFC lightweight champion Sean Sherk gets a face full knee courtesy former welterweight champion Matt Hughes. (Josh Hedges/Zuffa LLC)

"Chris Lytle's no pushover," said Hughes. "I'm taking him seriously. Anyone who saw that fight knows how close it was, it could have gone either way. Lytle knows he can make a name for himself in a heartbeat by defeating me."

Hughes also had another motivation for taking this fight, as the night figures to be something of a homecoming for the Iowa-based Miletich Fighting Systems Elite crew and their friends.

"This is going to be a special night," said Hughes. "Part of the reason I took this match is because it is in Columbus, which is a six-hour drive from Hillsborough. I'm fighting, Tim (Sylvia)'s fighting, Drew (McFedries) is fighting, Rich (Franklin) is fighting in Ohio, this is a chance for all our fans around the Midwest to come see us fight without having to fly out to Vegas to do it."

(Source)