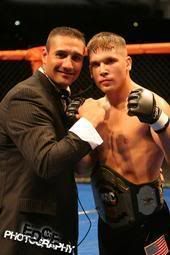 By Reid Forgrave

The little man is overflowing with aggression.

Wait a sec - we shouldn't refer to the 20-year-old, 155-pound Jeremy Stephens as a "little" man. Not unless we want our butts whipped.

Sure, he was scrawny as a kid. His half sister laughs remembering him running around the house at age 5, all skin and bones, his face painted like that of his favorite professional wrestler, shouting, "I AM THE ULTIMATE WARRIOR!" to anyone who listened. And she laughs remembering the little kid who always got in fights with bigger kids when he switched schools, which during his childhood was way too often.

But that pent-up aggression - it's real. It's what drives Stephens to work out three times a day. It's what makes him fight as many as three bouts in a month. It's what brings Stephens to risk bodily injury in the ring.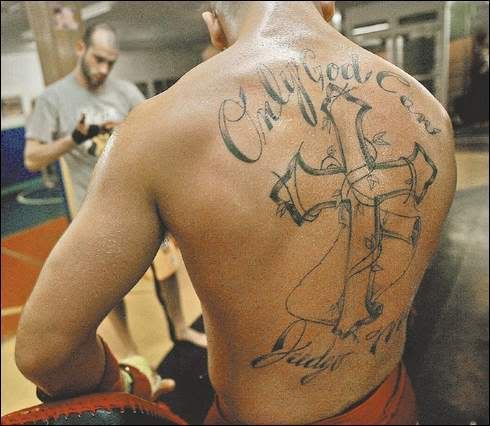 That aggression in the ring stems from his inner turmoil of growing up in a broken home. And it's what drives the 2004 Norwalk High School graduate to chase a career in mixed martial arts, the sport commonly known as ultimate fighting that's one of the hottest fighting sports.

Promoters of the brutal sport see Stephens, now of West Des Moines, as an up-and-comer whose 11-1 professional record and exciting fighting style - lots of elbows and knees, and quick fists that pack a mighty punch - could soon propel him to the top.

"He hits to take you out," said Anthony Porcelli, Stephens' coach and owner of Mixed Martial Arts Academy in Des Moines. "I see him making it big in the UFC (Ultimate Fighting Championship, the top U.S. mixed martial arts organization). ... He's right on the edge. He's almost there."

Stephens will take another step toward that career tonight at Veterans Memorial Auditorium, where he'll fight in one of 15 mixed martial arts bouts in an event coinciding with the state high school wrestling championships.

If you look closely inside the octagonal ring, you'll notice some surprising things about Stephens. There's the calm demeanor unbefitting the street-fighting archetype. And there's the tattoo stretching the length of his back. It's a cross and a scroll with the words, "Only God Can Judge Me."

(Read More)