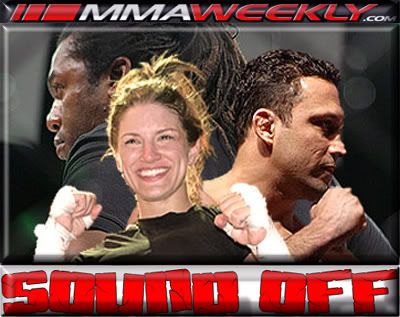 A referee's job is one of the most thankless in any sport, but even more so in the world of mixed martial arts. In MMA, a referee's decision doesn't just determine the position of the ball on the field or whether someone hit a game winning home run or a foul ball. In MMA, a referee's job can determine whether a fighter goes to the hospital or not, whether a fighter is ever able to step into the ring again or not. Because of the consequences at stake, controversy is a fate destined for any referee.

And controversy seems to follow referee Herb Dean wherever he goes, but that's only because he is so good at what he does, he is assigned to handle the fights that have the most eyes on them, the title fights, the main events. He refereed the first ever main event on Showtime, manning the cage between Frank Shamrock and Renzo Gracie. The outcome wasn't what many wanted, Gracie winning because Shamrock was disqualified for illegally striking him to the back of the head and leaving him unable to continue.

Gina Carano fought Julie Kedzie on the EliteXC card in what Damon Martin named the "Fight of the Night" while Carano took home "Fighter of the Night" honors. Carano talks about what it means to make such a big splash on the debut of MMA on Showtime and all her efforts to get there.

Renzo did win the main event, but experienced a trip to the hospital in the process. Tonight he joins the radio show to discuss the fight, Shamrock's reaction afterwards, and how he's doing health-wise following the illegal knees to the back of the head.

Join Damon & Jeff on MMAWeeklyRadio.com tonight to hear what Herb, Gina and Renzo have to say about the first MMA event ever on a U.S. premium cable channel. Listen LIVE tonight at 6pm PT / 9pm ET on MMAWeeklyRadio.com.