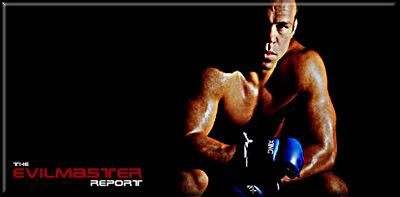 By: Mike Sloan

This may sound like crazy talk, but from a fan and writer's perspective, it appears as though Silva is on his way out, if he wasn't been already. This may sound a little harsh but if you really think about it for a while, the only time Silva has looked like the real "Axe Murderer" against world-class opposition (note: an emphasis on "world class") was back on Halloween '04 when he tore up Quinton Jackson.

Sure he certainly bludgeoned Kazuhiro Nakamura and Kazuyuki Fujita, but let's face it: those two aren't exactly "Shogun" and "Rampage." His close tussles with Hidehiko Yoshida could be construed as signs of decline mainly because Yoshida isn't an A level fighter. Yoshida is a tremendous judoka and he is naturally bigger than Silva, but Wanderlei never dominated the Japanese icon in either of their two fights.

Silva also dropped a lackluster decision to archrival Ricardo Arona and though he avenged the loss to his tattooed nemesis, he didn't blow him out of the water like "Shogun" or Jackson did. Let's also not forget the controversial loss to former K-1 World Grand Prix champion Mark Hunt. And although I thought Silva did enough to deserve the decision, Hunt was still a novice to MMA and Silva looked listless. His duel with eventual 2006 Open-Weight Grand Prix champ Mirko Filipovic surfaced, which directly preceded Saturday's knockout loss to Henderson.

Why has Silva looked less-than-spectacular lately? One can be ring burnout, because Silva, unlike most world champions, fights all the time. It seems like he fights on every other full-blown PRIDE event and ever since he won the middleweight crown by besting Kazushi Sakuraba in November 2001, he has competed in a whopping 19 professional fights — and that's not even including the thousands of hours spent in the gym and hundreds of sparring sessions he plunged into headfirst. Compared to other elite world champions of his era, Silva was the busiest.

Since winning the belt, the "Axe Murderer" has been toppled only four times and had one draw. In that same span, Chuck Liddell fought 13 times (two losses), Couture 10 times (five losses), Tito Ortiz nine times (three losses), Fedor Emelianenko 19 (zero losses), Matt Hughes 14 (two losses) and Dan Henderson 15 (four losses).

Aside from Fedor, who is arguably the greatest fighter ever, Wanderlei has been the most impressive and has toppled the better competition overall. His only losses, aside from the Henderson shellacking on Saturday and the points loss to Arona, came from fighting heavyweights.

After pondering what Silva's been through during his title reign, it's a wonder he held onto the title for that long. The man has been busy and by not resting as much as the others, losing his title before retirement was inevitable.

Another piece of the jigsaw puzzle is the amount of punishment he's had to endure throughout his title reign. At some point in virtually every fighter's career there is a breaking point and no matter how great a fighter is or how much training he's endured, his body just shuts down.

Translation: shot.

Maybe it happened against "Cro Cop." Maybe it was against Henderson. Maybe it actually hasn't even happened. Either way, when an elite fighter, or even a very good, successful fighter, is dominated so thoroughly and knocked out so viciously in back-to-back battles, it's usually a sign of a shot fighter.

Silva is only 30 years old, yet he has done it all. Perhaps he has totally burned himself out. It happened to Pedro Rizzo, Igor Vovchanchyn and, when speaking of elite warriors, it happened to Mark Coleman and Randy Couture.

While it seems unlikely, considering how relatively young he is, I'm hoping Silva has not succumbed to that same fistic death sentence. (Hmm, I am wondering if Silva will become the Marco Antonio Barrera of MMA.) I don't think he's done yet, but only future fights will tell us for sure.