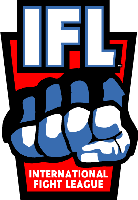 Team Battle Between Former UFC Champion Ken Shamrock and his Reno Lions and Former UFC Champion Frank Shamrock and his San Jose Razorclaws to air for first time

NEW YORK, February 28, 2007- The International Fight League (OTC.BB: IFLI), the world's first team-based professional mixed martial arts league, and television partner Fox Sports Net will host a family rivalry on Friday night, as Ken Shamrock's Reno Lions take on the San Jose Razorclaws, coached by his brother Frank, this Friday night. It will be the second of 22 one-hour shows to be seen on FSN.

Start time for the show is 11 p.m. in most markets. The March FSN schedule, with dates and times on each Regional FSN network, can be seen at http://www.ifl.tv/TV-Schedule.html. Viewers can also check their local schedule at http://msn.foxsports.com/tv/schedule.

The key matchup in this week's battle will be between two of the IFL's rising stars, lightweights John Gunderson ( Medford, Ore. ) and Josh Odom ( Tallahassee, Fla. ). Gunderson outlasted 150 other contestants in an open tryout to make Ken Shamrock's team (driving all night from a job in Oregon to the tryout), while Odom, an Army reserve sergeant who served a tour of duty in , will also be making his IFL debut.

The FSN schedule will follow the order of IFL events in the first third of the regular season. Then the battle at Mohegan Sun Arena in Uncasville, Conn. , between two of the league's two top teams, the Pitbulls, coached by Brazilian Jiu-Jitsu master Renzo Gracie and based in New York , and the Wolfpack, coached by Olympic Silver Medalist Matt Lindland and based in Portland, Ore. , will be shown on same-night delay at 11 p.m. on Friday, April 13.

The 22 hours of original programming scheduled on FSN this year represents nearly 70% more than the 13 hours shown in 2006, when the network aired three hours of coverage of the IFL Legends Championship in May and June and followed up with 10 hours of IFL World Team Championship action, September through December.

The FSN coverage is in addition to the 22, two-hour episodes of "International Fight League Battleground," to be seen on over-the-air MyNetworkTV nationwide beginning on March 12.

In all, 66 hours of original IFL programming is scheduled to run on the two networks, which together reach more than 95% of television households.

The remaining schedule of matchups on each FSN debut date is as follows through April:

March 9, Scorpions vs. Sabres (Houston, Feb. 2)
March 16, Anacondas vs. Silverbacks (Houston, Feb. 2)
March 23, Dragons vs. Wolfpack (Atlanta, Feb. 23)
March 30, Pitbulls vs. Red Bears (Atlanta, Feb. 23)
April 6, Condors vs. Sabres (Los Angeles, March 17)
April 13, Wolfpack vs. Pitbulls (Uncasville, Conn., April 13 same day show)
April 20, Anacondas vs. Razorclaws (Los Angeles, March 17)
April 27, Dragons vs. Scorpions (Uncasville, April 13 show)

Each of the nine regular season IFL events will consist of four teams – each with an athlete in all five weight classes competing – along with a special Superfight, for a minimum of 11 bouts per card. The team that wins the best three of five match setup will be declared the team winner for the match, similar to collegiate and high school wrestling meets. The IFL also differs from other MMA organizations in that the bouts are held in an oversized five-rope boxing ring with three, four-minute rounds, each designed to create the most compelling in-arena experience for local fans.

Each of the 12 IFL teams for 2007 will compete in three regular season events; the teams with the top four overall win-loss team records will advance to the semi-finals, which will be held on Thursday, August 2, at Continental Airlines Arena in East Rutherford, N.J. The 2007 IFL Finals will then be held at The Forum in Los Angeles on Saturday, September 15.