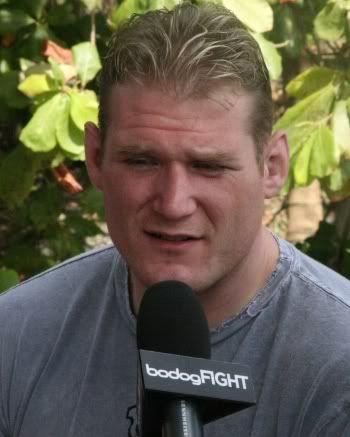 Josh "The Babyface Assassin" Barnett was one of the many MMA greats in attendance for the filming of BodogFight Seasons 3 and 4. (Bodog Nation photo)

TAMBOR, Costa Rica – BodogFight is becoming a serious player in the world of elite mixed martial arts. And the big names of the sport are starting to take notice.

While over 60 aspiring fighters were plying their trade inside the ropes looking to make their marks on the industry, several well-established MMA stars sat ringside, offering up analysis, insight and commentary during filming of BodogFight Seasons 3 and 4 at the Barcelo Resort in Playa Tambor.

Among those in attendance:

- Champion of the inaugural UFC tournament and Brazilian Jiu-Jitsu legend, Royce Gracie.

- Former UFC heavyweight champion and current Pancrase open-weight champion Josh Barnett.

- UFC and PRIDE standout Phil "the New York Bad Ass" Baroni.

- UFC veteran and current Elite Fighting Championship light heavyweight title holder Marvin "The Beastman" Eastman.

Those looking to check out BodogFight action don't have to wait any longer – BodogFight: St. Petersburg is currently on air every Tuesday and Saturday night (11 p.m./10 Central) on the ION Network. Be sure to check out all fight action from Russia as BodogFight comes right into your living room.

You can also download fights online at Bodogfight.com, and check back in at Bodognation.com for the latest breaking news in the world of MMA!