By: Brad Cooney & Lee Bates
Photos: Big Joe Miranda

Floyd Mayweather Jr walked into the luncheon right after the Press Conference in Hollywood California, with his arms up, shadow boxing, and not shy to say exactly what was on his mind, " It's true what you heard, me and my father are back together. We have settled our differences, and appeared for the first time in public at the Las Vegas Press Conference. Obviously with my father working with Oscar for the past few years, he can give me a lot sound advice."




The pound for pound great one made some outlandish allegations concerning how he and his team has been treated by Golden Boy Promotions throughout the coast to coast press tour, " For example, his people (Golden Boy) accused me of stealing, they said that I had stolen food, gloves, I mean come on, I am a multi millionaire, I don't need to do that. I am just going to be frank with you, they have treated me like shi* this entire tour."




Mayweather accuses Oscar De La Hoya of forgetting where he came from, " for example, when I got into the limo in Houston, I gave the driver a one hundred dollar tip, the guy looked at me like I was crazy. I asked him why he was looking at me like that, he said ' because Oscar De La Hoya only gave us a hundred dollar bill for all three drivers to split'. Mayweather went on to say, " My dad has been underpaid by Oscar for a long time, and come judgement day, you have to answer to the big man".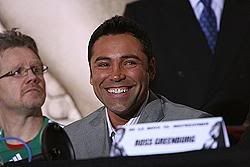 While exiting the room Mayweather spotted 3 division world champion, Shane Mosely and the war of words began, " Shane if there are any questions that I need answered on your behalf, I will ask you boss your boss (Jin Mosely). You made two million dollars for your fight with Collazo, I was making that in 1990's". Mosely responded, " Well that's all well and good, but remember, as a member of Golden Boy I am getting a piece of the pay per view, so thanks."




Oscar De La Hoya's entrance was much more reserved, completely opposite from Mayweather's entrance, " I will let Mayweather do all of the talking, that's exactly what I want. I need that extra motivation, I wanted him to get under my skin, and that is what he has done".

When asked about the allegations made by Mayweather concerning stealing food, and gloves, Oscar said, " It doesn't matter what he says, we actually had to give him a time out, like a kid. They guy is so emotional, he just needs to relax".




When asked by Fightnews how he has been treated in Puerto Rico now that he resides there, Oscar responded, " They love me there, everything is all and forgotten from the days of me and Trinidad, they love me now. Fightnews also asked De La Hoya to comment on the hiring of Freddie Roach, and what Roach brings to the table that Floyd Mayweather Sr doesn't, he replied, " Freddie brings lot of energy to me, I have already felt a difference with Roach, and now I can see why Manny Pacquiao is such an energenic fighter."