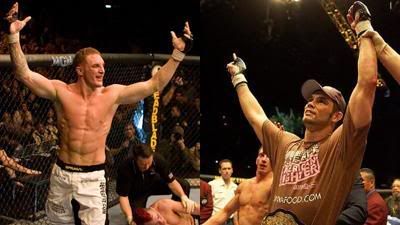 By: Mike Chiappetta

Jason MacDonald and Rich Franklin need one win for a title shot

The UFC, like its home base of Las Vegas, has grown to be a place where fortunes can change almost instantly.

For evidence, look no further than Jason "The Athlete" MacDonald, a talented Canadian mixed martial artist who has parlayed a pair of upset wins to a spot in one of the marquee matchups of Saturday's UFC 68 event in Columbus, Ohio.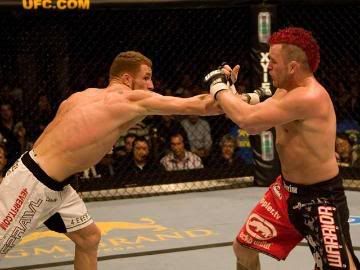 MacDonald, who is 18-7 in his career, will be fighting former middleweight champ Rich Franklin. And fresh off wins over Ultimate Fighter alumni Ed Herman and Chris Leben, one more win—an even more improbable one—will put him in line for a middleweight title shot.

Though MacDonald has been a pro fighter since 1999 and was known by many in the MMA community prior, he was virtually unknown by UFC fans when he made his debut against Herman in October 2006.

That event featured the last fight of the trilogy between Tito Ortiz and Ken Shamrock, and the card, which was broadcast on Spike TV, drew 5.7 million fans at its high-water mark, the biggest audience of any UFC fight card ever. MacDonald's opponent, Herman, had gained a following from his time on TUF. When MacDonald caught Herman in a triangle choke and submitted his opponent, he became at the age of 31, a rising star.

A little over two months later, he was back and featured again on a huge card. This time, it was Ortiz's second attempt to unseat Chuck Liddell as the light-heavyweight champ. This time, the Dec. 30 card was on pay-per-view, and again it broke records, drawing over 1 million pay-per-view buys, more than any boxing or MMA event in 2006. And again, MacDonald shined in front of the massive audience, this time submitting Herman's Team Quest teammate Chris Leben.

Now comes his biggest test, the 20-2 Franklin, the former UFC middleweight champ who is coming off his first loss in nearly three years and is hungry to return to his winning ways. And guess what? The crowd again will be huge, with over 18,600 fans making up the largest attendance for a UFC event ever. Think MacDonald will be in his element?

"I'd like to think I've already proved myself to not be a pushover for anybody," MacDonald said. "I don't think the UFC, Dana and the guys see me as stepping stone for Rich. I've proved myself against Ed and Chris that I'm not going to lay over for anyone regardless of what people think. I don't see this fight as a stepping stone for Rich. I see it as a great matchup of two aggressive fighters with two completely different motives. I'm trying to further my career in the UFC, and Rich is trying to get back on track, so I think you're going to see an exciting fight for the fans."

Judging from Franklin's comments, he certainly has won the respect of the ex-champ and is a legitimate contender.

"I know that going into this fight, he's proven himself a tough competitor," Franklin said. "I'm looking myself personally to have a tough fight. This is not going to be one of those fights where it's an easy first-round knockout. He doesn't have the name 'Athlete' for no reason at all. He's in great condition every time he fights, and I'm looking for a high-paced fight."

Franklin will be attempting not only to beat MacDonald, but to put his name right back at the top of the list of contenders to the middleweight championship. He admits that doubts seeped into his mind following his methodical TKO loss to Anderson Silva at UFC 64 in October, but believes those struggles to be part of the thought process of any fighter.

"I think every fighter kind of goes through [doubts] after you lose a fight," Franklin said. "You sit around for a couple days and try to figure out what you did wrong, where you made the error. Were you overtraining? Were you undertraining? You start questioning a lot of different stuff. And yeah, I went through that for several days, until in my case I came to no conclusion and decided you have to get back on the horse and do what you do."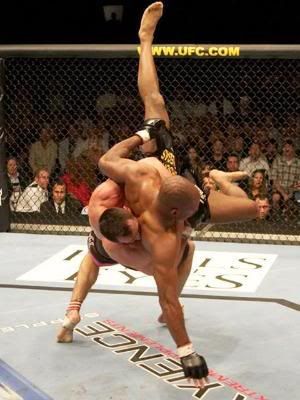 To his advantage, his comeback fight in Columbus will be a virtual home appearance for Franklin, who lives about 100 miles away in Cincinnati. His undefeated streak had pre-dated his time in UFC and had run through his thrashing of Ken Shamrock in a star-making performance and his June 2005 title win over Evan Tanner. He had in many ways taken the same UFC route that MacDonald is attempting to take on Saturday, beating big names and taking a shorter route to the top.

That's not to say MacDonald hasn't worked hard to get here. In fact, he was once considered as a potential cast member of the first season of TUF. If he had been chosen, he might have been a star long before now. His tenacity in pursuing his dream, Dana White said, is what makes him a dangerous fighter.

"I've fought long and hard to finally get to the UFC, and for Dana and the guys to give me a shot," he said. "I'm not going to lay down for anybody. I'm going to go out there and fight my ass off and put on the best performances I can, and do everything in my power to stay in the UFC, continue to put on good fights and have the fans excited to watch me. That's one thing you can guarantee when Jason MacDonald comes to the ring is I'm coming to fight. I made too many sacrifices to get to where I am today, and I'm not going to let it pass me by."

Franklin primarily favors finishing fights with his hands, preferring to outbox his opponent, but has strong submission skills as well. MacDonald, meanwhile, has finished most of his fights on the ground, and describes himself as an opportunistic fighter, able to capitalize on his opponent's mistakes.

"To make my appearance at a UFC and have some success, considering where I am today, in a fantastic spot in a main card fight against Rich Franklin and be in line for a title shot, I'm certainly living my dream," McDonald said. "Part of the motivation for me to go out there on March 3 to fight my ass off and put on the fight of the night, so I can live that dream and go after the middleweight title."

Waiting in the wings is champion Anderson Silva, who last month beat Travis Lutter by submission in his first championship defense. White said the winner of the Franklin-MacDonald match will be in line for a title opportunity, adding an extra layer of intrigue to the fight.

"Rich Franklin is coming back after a devastating loss to Anderson Silva and taking on a guy who's on a roll right now," White said. "Rich isn't coming back to an easy fight. This kid [MacDonald] beat Chris Leben, pulled off a big win over TUF star Ed Herman. This is the fight to see if Rich's head is back and if he's the old Rich who held the title, or if the kid is going to keep right on rolling."

(Source)