"GOMI vs nick was greatfight,but GOMI's is not ready enough.He has too high tension.

GOMI will wake up again".We waill matchmake this mfight again,But Without titleship,Nick never accepot it,in April,titlematch is good, In May, PRIDE-light GP 1st match is good too"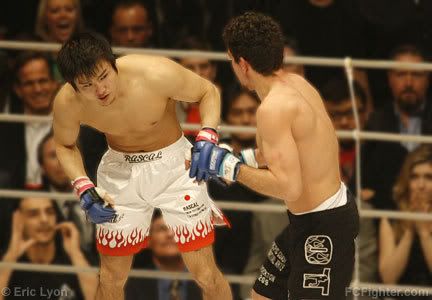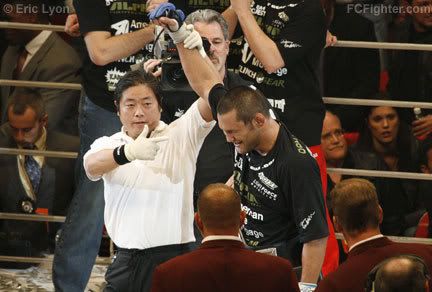 "Wandarei's tonsils were swollen. His temperature went up to 40 degrees. So He cancel open training.But He doesn't make an excuse. He never said absent.because he is maineventer .After fight he cried in dressingroom.He kept this belt 5 years.it is a part of his body.

Dan henderson will continue to fight in middleweight.Dan himself says"i will fight in heavy weightclass in next fight",haha.but Chutoboxe will challenge,Shogun or Silva's revenge.

and ...African assasin Sokodiou,Are you atisfied with him?

maybe You thought "it is mismatch"hahaha.but We know his potential.

His next fight is April,Next PRIDE.......opponent is..........if Anyone face him,it will be goodmatch

Japanese original article

A quick Summary of points he stated:

1: He would like to see Takanori Gomi defend the PRIDE Lightweight title against Nick Diaz on April 8th at Saitama Super Arena. If it can't happen then, then the two will face each other in the Lightweight GP that starts on May 20th. Sakakibara thought that Gomi may have came unprepared for the Las Vegas fight, but that revenge will be on his mind for the re-match.

2: Sakakibara stated that Dan Henderson, who is both the PRIDE Welterweight (185 pounds) and Middleweight (205 pounds) champion, will continue to fight as champion in both weight classes. Sakakibara stated that both Silva and Shogun will have the chance to fight for the Middleweight title against Henderson in the future. He also claimed that Silva had a 40-degree Celsius fever (104 degrees Fahrenheit) and wasn't feeling well the week of the fight, but that he made no excuses. He finished off by stating that he would like to see Silva make a strong return in America.

3: He stated that Rameau Thierry Sokoudjou will be booked for PRIDE's 4/8 Saitama Super Arena event.

4: Sakakibara was asked by a Japanese reporter about PRIDE Heavyweight champion Emelianenko Fedor fighting in BodogFight on April 14th against Matt Lindland (and why Fedor is not fighting only in PRIDE). After answering the question, Sakakibara said that he has seen the stories about Ed Fishman wanting to buy out PRIDE. However, Sakakibara stated that he will not sell PRIDE and that PRIDE cannot be sold in a disposable manner like you would sell a car or a cell phone. He stated that his mission is to make PRIDE as big as possible in 10 years and that the promotion will continue to live on 50 years from now and become immortal. (If you suspected that Sakakibara would not want PRIDE sold, then you also probably read what I wrote about PRIDE's future before the PRIDE 33 event.)

In the first attendance claim that I've seen in any mainstream media outlet, the Las Vegas Review-Journal is claiming 13,180 fans at the Thomas & Mack Center for the PRIDE 33 event. Interestingly, no attendance figures were listed in initial Japanese media reports coming out of the event (as opposed to the 10/21/2006 event, which immediately trumpeted a number that is actually smaller than the 13,180 claim).