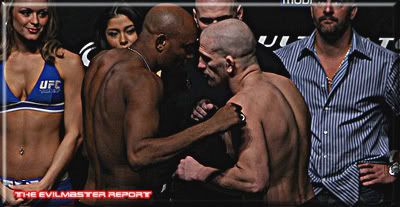 By Loretta Hunt (loretta@thefightnetwork.com)

UFC middleweight contender Travis Lutter failed to make weight this evening in his bid to cut to the requisite 185-pound limit for his title bout against UFC Middleweight Champion Anderson Silva.

The bout will now be downgraded to a three-round, non-title bout per the Nevada State Athletic Commission's direction. Silva's manager, Ed Soares, who relayed the news to Silva via cell phone, was present to accept the new bout terms for his fighter.

Lutter had weighed in at 187 pounds earlier that afternoon at the official weigh-ins for tomorrow night's UFC 67 "All or Nothing" at the Mandalay Bay Events Center.

Given two hours to make the weight, a drained Lutter returned to the scales at 6:15 PM PT. Stripped down, Lutter came in at 186.5 pounds – a pound and a half over the mark.

Lutter had earned his title bid from his successful bid on this past season of "The Ultimate Fighter – The Comeback." An exhausted and disappointed Lutter was unavailable for comment.