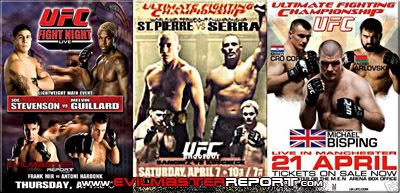 By Kelsey Mowatt

Now before anyone sends me an angry email about the above title (radio@fcfighter.com), because in no way am I implying that MMA fans are fools, otherwise I'd be the biggest moron out there, take a step back and examine what's coming up in April. In a span of 14 days, there are three notable pay-per-view events alone, not to mention a plethora of other events you might be heading out to. For some, dropping 120 bones on MMA in three weeks is no biggy, for others, it might mean a steady diet of bread and water for a month.

There's always the option of inviting the whole office over to pitch in, or maybe you've got a gang of buddies who always do that helps reduce the costs. In any case, for those reclusive MMA fans that can't pass on any big event, April's cable bill isn't going to be cheap. For those gentlemen, or ladies too, who have a "special someone" in there life who hates MMA, there's going to be trouble. Have fun convincing your significant other that you can't make that dinner party, "because tonight's fights are going to be even better than last nights, I swear."

April 5th is Ultimate Fight Night 9, headlined by Joe Stevenson and Melvin Guillard, and despite that great event, probably the best thing about UFN 9 is that it's free on Spike TV. Throw in the premiere of The Ultimate Fighter Season 5 right after, and it's a great night of MMA action, at a very affordable non-existing price.

Two nights later on April 7th, the pocket book begins to take a hit. The Ultimate Fighting Championship is hosting its 69th event in Houston, Texas, and there are some interesting match-ups, no question. Georges St.Pierre defending his welterweight title for the first time against Matt Serra is hard to pass on. Josh Koscheck taking on Diego Sanchez and Yushin Okami meeting up with Mike Swick are another 2 compelling bouts with title shot implications. Belcher, Grove, Imes, Herring, and Leites fighting Sell, are some other bouts that should entertain.

The very next night is Pride 34 "Kamikaze" on April 8th, the last Pride event that will operate under Dream Stage Entertainment direction. As of today, there have only been 6 fights confirmed for the card, and so far, this event from the surface, might only draw in the most avid of MMA fans. Of course Ricardo Arona looking to avenge Rogerio Nogueira's recent KO loss to Thierry Sokoudjou should be a good fight, and anytime you have an opportunity to watch the submission wonder Shinya Aoki, it's going to be tempting. Jeff Monson taking on Kazuyuki Fujita will probably grab the attention of a lot of diehards out there, and there's some hype surrounding Zelg Galesic's Pride debut. There is still some time for Pride to add some other big names to the card, and the promotion is well known for its late additions. If Wanderlei Silva is cleared to fight by doctors and gets the okay from the Las Vegas Athletic Commission, he is tentatively scheduled to fight, an occurrence that would no doubt put more numbers in the buy column.

Six days later, on April 14th, BodogFight will host its second PPV event from St. Petersburg, Russia, with an extremely interesting main event fight. Again, for no other reason than this alone, you know a lot of hardcore MMA fans will cough up the dough for any chance to see the Pride Heavyweight Champion, Fedor Emelianenko, get in the ring. Consider that his opponent is one of the world's best middleweight fighters in Matt Lindland, and you've got some viewers. It might appear to some at first glance, to be somewhat of an odd fight, Lindland moving up two weight classes to take on the fighter who most consider to be the best on the planet. But that's part of the attraction isn't it? What if Lindland wins? What will it mean to the landscape of MMA? The event's appeal is not just limited to the main event, Eddie Alvarez vs. Nick Thompson should be a great welterweight fight, plus Aleksander Emelianenko taking on Eric Pele could also be a slugfest. Throw in all the finalist fights from BodogFight Season 2, and once again, you might start envisioning another $40 disappearing.

Then finally, the bank breaker for some of you could be UFC 70 on April 21st in Manchester, England. If you get Spike TV, then it looks like your bank balance won't have to take another hit, as UFC 70 is slated to air that night on the network at 9pm. If Mirko "Cro Cop" Filipovic can defeat Gabriel Gonzaga then champion Randy Couture is next up, a fight that has record breaking sales numbers written all over it. Of course, Gonzaga, an excellent grappler, stands in the way of that fight and I would suspect many will tune into to see Cro Cop in his second UFC appearance. Former champion Andrei Arlovski will meet Cro Cop's jiu-jitsu trainer Fabricio Werdum in another compelling heavyweight match-up, and despite the fact Forrest Griffin is unable to fight Lyoto Machida due to a staph infection, his replacement David Heath will offer the Brazilian solid competition. The loss of Griffin on this card may hurt ratings somewhat, particularly in the U.S., but with U.K. fighters like Michael Bisping and David Lee scheduled to compete, interest in Britain should remain high.

The hectic April schedule also includes two International Fight League events, Cage Rage 21 and host of other smaller shows throughout the month. For us MMA addicts, it's going to be a fantastically busy, entertaining, and costly month.