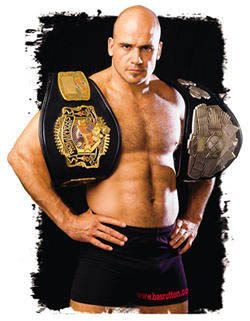 By Jeff Cain

Mixed martial arts legend Bas Rutten has stepped down from his position as a coach in the IFL to take on a higher-profile role in the relatively new MMA promotion. Prior to the IFL event on Saturday night, Rutten announced the news to the live crowd at the Forum in Inglewood, California.

Originally reported by Sherdog.com's Greg Savage, Rutten's role with the IFL will transform from coach to the "Face of the IFL" in the broadcasters' booth as well as hosting the "IFL Battleground" series on MyNetworkTV.

Rutten is a three-time King of Pancrace, a former UFC Heavyweight Champion, and a former longtime color commentator for Pride Fighting Championships. Rutten's charisma and knowledge of the sport would seem to make him tailor-made for his IFL TV roles.

Los Angeles Anacondas' assistant coach Shawn Tompkins will replace Bas as head coach.

The Anacondas defeated the Pat Miletich-coached Silverbacks, who are the two-time IFL Team Champions, in the season opener, and swept the Frank Shamrock-coached San Jose Razorclaws last night. Tompkins will be coaching a team that may very well be the favorites to win the Team Championship of the IFL's first full-length, 12-team season.