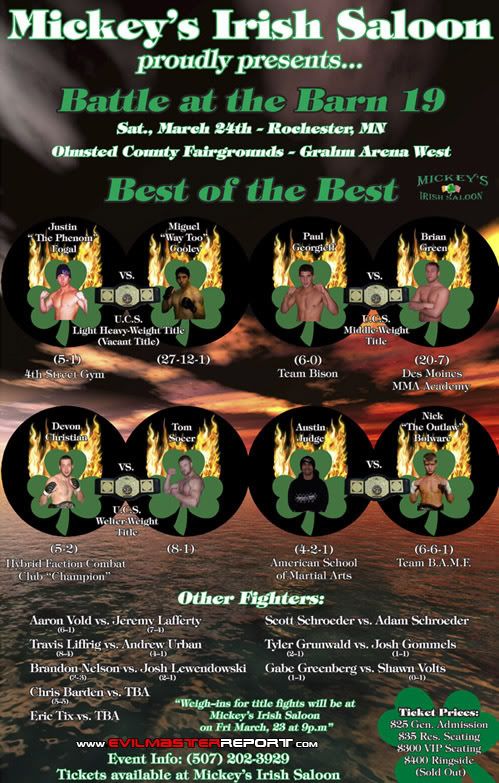 By Ben Pherson

There's never been a better time to be a mixed martial arts fan in the Rochester area. That's because local mixed martial arts promoter Jami Klair has put together arguably the best event ever to hit Rochester. And with his full fight card set, Klair can just sit back and smile.

Klair's Battle at the Barn 19: Best of the Best is Saturday at Graham Arena. The event features 17 fights, more than any previous Battle at the Barn.

And Klair believes it's quality over quantity.

"There's not one fight on the card that I'm disappointed with," he said. "I think even the first-timers, all those fights will be exciting. Styles make fights, and I pride myself on being a good matchmaker. This event really has the best local talent, which is pretty exciting."

Klair said this could be the most attended mixed martial arts event ever in Minnesota. A few of his past shows have attracted about 1,500 fans. And some shows at Myth in Minneapolis also have had 1,500 fans.

Right now, Klair is expecting at least 1,500, though attendance could top 2,000.

"It hasn't been hard to sell tickets for this one, and I think that says a lot about the growth of the sport and the support we have in the Rochester area," Klair said. "I'm just thankful for that support and the opportunity to bring an event like this to Rochester."

There are four title fights on the card. The main event features Elgin's Tom Speer, who is 6-1 and recently signed with manager Monte Cox. Speer will meet Andy Normington, a stand-up fighter with a deceiving record, for the welterweight title.

"Andy has fought some great guys. He's very tough. He's the type of guy who doesn't tap out real easy," Klair said.

Iowa's Nick Boulware will battle Austin Judge for the lightweight title. Judge is undefeated and fights with the American School of Martial Arts out of Savage, Minn.

"Personally, this my favorite fight for this card," Klair said. "Both guys are very exciting stand-up fighters, and both are well-conditioned athletes."

In a middleweight title fight, Brian Green will meet undefeated Paul Georgieff. And Pine Island's Justin Fogal will fight for the light heavyweight title against Miguel Cooley, who is the most experienced fighter on the card with a record of 16-12-1.

Other fights with local interest include Aaron Vold vs. Jeremy Lafferty, Dan Mauseth vs. Brandon Nelson, Chris Barden vs. Mike Hansen and brothers Adam Schroeder vs. Scott Schroeder.

The Graham Arena doors open at 6:30 p.m. with the first fight beginning at 8 p.m. General admission tickets are $25 in advance at Mickey's Irish Saloon and $30 at the door. Reserved seating is $35 and floor tables are $300, though nearly all floor seating is sold out.

Battle at the Barn 19: Best of the Best

What: Mixed martial arts, also known as ultimate fighting, event put on by promoter Jami Klair. The event features many of the best local fighters.

When: 8 p.m. Saturday.

Where: Graham Arena.

Tickets: $25 general admission in advance at Mickey's Irish Saloon or $30 at the door. $35 reserved floor seats and $300 floor tables (floor seating is almost 100 percent sold out).

Full fight card (in order; records from Full Contact Fighter):
1. Tyler Haines (0-0) vs. Casey DeVriendt (0-1)
2. Nick Louden (0-0) vs. Tyrell Tlougan (0-0)
3. Lou Ghambi (0-1) vs. Noah Babbler (0-0)
4. Adam Schroeder (2-5) vs. Scott Schroeder (2-3)
5. Rick Jackson (0-0-1) vs. Victor Cabudas (0-1)
6. Chris Barden (4-6) vs. Mike Hansen (3-10)
7. Josh Gommels (1-1) vs. Tyler Grunwald (1-1)
8. Gabe Greenberg (0-0) vs. Shawn Volts (0-0)
9. Jason Hoyer (1-0) vs. Ryan Severson (2-2)
10. Dan Mauseth (4-3) vs. Brandon Nelson (3-3)
11. Tony Norlander (1-1) vs. Matt Race (0-0)
12. Aaron Vold (5-1) vs. Jeremy Lafferty (7-4)
13. Chad Swenson (6-2) vs. Justin Duden (5-1)
14. Miguel Cooley (16-12-1) vs. Justin Fogal (5-1) for light heavyweight title
15. Brian Green (14-7) vs. Paul Georgieff (6-0) for middleweight title
16. Nick Boulware (2-6-1) vs. Austin Judge (4-0) for lightweight title
17. Tom Speer (6-1) vs. Andy Normington (3-6) for welterweight title.