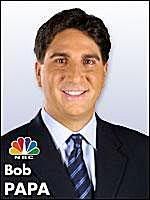 Widely recognized for its innovative role in televised professional boxing, HBO Sports has added a new broadcaster to the hit late-night boxing franchise HBO BOXING AFTER DARK. HBO Sports executive producer Rick Bernstein announced today that veteran broadcaster Bob Papa will be joining the BOXING AFTER DARK broadcast team as blow-by-blow announcer. The move takes effect with the March 24 BOXING AFTER DARK presentation from Copenhagen, Denmark..

"Bob Papa is a perfect fit for HBO," said Bernstein. "He has a strong knowledge of the sweet science and is an accomplished broadcaster. We're excited to team him with Max Kellerman and Lennox Lewis on the Boxing After Dark franchise."

Known in the New York area as the "voice" of the New York Giants, Bob Papa has been on the broadcast field since 1987 when he joined WNEW Radio. He has been part of the NBC Olympics coverage since 1992, handling a variety of sports in both the Summer and Winter games, including boxing. Prior to joining NBC, he served as blow-by-blow announcer for eight years on ESPN's primary boxing series. Most recently, Papa handled blow-by-blow duties for Versus' pro boxing series. In addition to his continued radio and TV work of the New York Giants, Papa is heard on the NFL channel of SIRIUS Satellite Radio. He is a 1986 graduate of Fordham University. Papa is a protégé of the late New York broadcasting legend Marty Glickman, who served as HBO's first-ever director of sports programming in the 1970s.

The executive producer of HBO BOXING AFTER DARK is Rick Bernstein; the producers are Dave Harmon, Thomas Odelfelt and Jonathan Crystal; the director is Mike Sheehan.