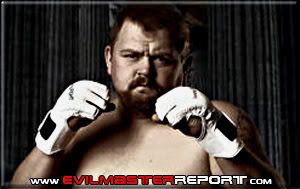 Whether he's working the grill at an Idaho Denny's or working over opponents in the ring, Josh 'Buffalohead' Curran always brings the heat.

The part-time short-order cook will try and make short work of Nevada's Roy 'Big Country' Nelson in the first of two heavyweight tilts on this week's episode of the hit mixed martial arts TV series BodogFight: St. Petersburg, airing Tuesday, March 27 at 11 p.m. / 10 p.m. Central on ION Television.

'We're thrilled to give Josh the opportunity to show off his skills as a fighter,' said Calvin Ayre, BodogFight creator and founder of Bodog Entertainment. 'He is an entertainer, a hard worker, and someone viewers will definitely relate to.'

The legend of 'Buffalohead' began with 6-3, 265-pound Curran's appearance in local toughman tournaments at various Idaho-based casinos.

'[Local fight promoter] Josh Thompson started it,' explains Curran. 'He said I needed a ring name and came up with 'Buffalohead' and it just stuck.'

Curran would go on to solidify his new moniker after a fight by raising his fingers to his forehead to make them look like horns. Now, with a record of 3-1 and help from his Lion's Den trainer Trevor Prangley, this MMA up-and-comer is stampeding his way through the ranks.

Undefeated in six professional fights, Buffalohead's opponent, Roy Nelson, is no pushover, though, and even has his own colorful nickname. According to the 6-1, 255-pound submission specialist, 'Big Country' was a name coined by his friend and sparring partner Eric 'Big' Pele, who fans can watch fight Aleksander Emelianenko at BodogFight's April 14th pay-per-view 'BodogFight: Fedor Emelianenko vs. Matt Lindland, Clash of the Nations'.

'Big E saw I was good at wrestling and thought I was from Iowa or something,' explains Nelson. 'That's where the name 'Big Country' came from, but I was born and raised in Vegas. I'm actually a city boy.'

In other BodogFight action, Finland's Jarno Nurminen makes his MMA debut against Korean judo champ Sang Su Lee (2-2). While these two heavyweights may lack colorful nicknames, this fight will not lack intensity, with an opportunity to compete at the April 14th Russian pay-per-view at stake.

Tune in to ION Television for all the action, then visit the award-winning web site www.BodogFight.com for a chance to win $10,000 by voting for your favorite fighter.

About Bodog.TV
Bodog.TV is a division of the international digital entertainment giant Bodog Entertainment. With six offices worldwide, the company features a diverse and growing roster of television shows. These include BodogFight (www.BodogFight.com), a mixed martial arts show; Bodog Battle of the Bands (www.BodogBattleoftheBands.com), a contest for a million dollar recording contract; and Calvin Ayre Wild Card Poker (Bodog.TV), a poker lifestyle reality show. Bodog Entertainment Founder Calvin Ayre, who is recognized as a world authority on branding in the digital entertainment industry, was featured on the cover of Forbes magazine's best-selling 'Billionaires' issue in March 2006. BODOG is a registered trademark of Bodog Entertainment Group.