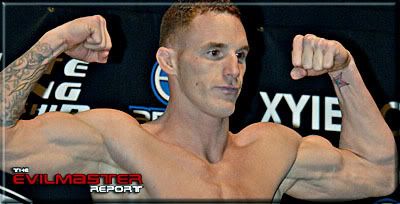 By Neil Davidson

COLUMBUS, Ohio (CP) - Canadian Jason MacDonald was soundly beaten Saturday night by former middleweight champion Rich Franklin at UFC 68: The Uprising.

The 31-year-old native of New Glasgow, N.S., who now calls Red Deer, Alta., home, was game, but could not solve the defence or raw power of the Cincinnati-based Franklin.

The two bulled each other by the fence as the mixed martial arts fight opened before Franklin started nailing MacDonald with some accurate strikes when they returned to the centre of the ring. And he cut the Canadian around the eye when he got him on the ground, firing blows from above.

MacDonald had difficulty taking Franklin down, and paid for it every time he tried.

In the second. MacDonald tried to work from the bottom, but Franklin was too strong. The ex-champ mounted him and punched away with MacDonald saved only by the bell.

MacDonald (19-8) staggered back to his corner, his battered face leaking blood and cornerman Mark Pavelich signalled the fight was over, giving Franklin the TKO win.

Franklin (23-2) was making his first foray into the ring since being outclassed last October by Brazil's Anderson Silva in just two minutes 59 seconds. Franklin required surgery after a string of Silva knees rearranged his nose. Now Franklin will be looking to replay the favour.

Earlier, former welterweight champion Matt Hughes outmuscled Chris Lytle for a unanimous decision.

Hughes' last outing was November when he lost his 170-pound mixed martial arts title to Montreal's Georges St. Pierre. Lytle, meanwhile, was the losing finalist in Season 4 of The Ultimate Fighter reality TV show.

The two 170-pounders battled on the ground in the first round, with a game Lytle managing to hold off Hughes as the former champion used his wrestling skills to gradually improve his position. It was more of the same in the second, but this time Hughes carved open Lytle's head with elbow strikes.

In the third, Hughes quickly got side position and went to work again. It wasn't pretty, but it was highly effective. Still there were boos as the fight wore on.

Hughes improved to 43-5 while Lytle fell to 32-14-4.

The MacDonald-Franklin fight preceded the main event pitting six-foot-eight heavyweight champion Tim (The Maine-iac) Sylvia against 43-year-old Hall of Famer Randy Couture.

Croatian sensation Mirko (Cro Cop) Filipovic probably awaits the Sylvia-Couture winner.

Couture, a former heavyweight and light-heavyweight champion back in the ring after a one-year retirement, came into the Sylvia bout 13 years older, six inches shorter and some 40 pounds lighter.

MacDonald came in on the strength of impressive wins in his two UFC fights to date, submitting Ed Herman and Chris Leben. A well-conditioned, well-rounded pro, Franklin represented a distinct step up in class from those two, however. A Cincinnati native, the ex-champion also had the crowd on his side.

UFC president Dana White said prior to the bout that the winner of the bout would get a shot at Silva's title. But it is widely expected the Brazilian will face Nate Marquardt first.

Silva was in the crowd Saturday night and was booed loudly by the pro-Franklin crowd.

UFC 68 was a success before the first punch was thrown. UFC officials said the planned sellout of 18,000 at Nationwide Arena was the organization's highest ever, garnering an expected gate in excess of US$2.8 million.

UFC fans couldn't wait, milling around the arena in impressive numbers before the doors opened at 7:30 p.m. ET.

The bookmakers favoured Sylvia, listing the big man at minus-290. That meant you had to put $290 down to net $100 profit. Couture, in contrast, was plus-220 - meaning a $100 bet would return $220 profit.

Gamblerspalace.com had Hughes an even bigger favourite at minus-680 while Franklin was minus-410. Lytle was plus-480 and MacDonald plus-330.

In earlier action, Jason (The Punisher) Lambert had Renato (Babalu) Sobral attached to his back like a clam for most of the first round of their light-heavyweight bout. But Lambert somehow held off the Brazilian, managing to cut him and then floor him late in the round.

Lambert administered some ground and pound in the second and when Sobral went for a kick, Lambert nailed him with a left. The Brazilian crumbled and Lambert tagged him on the ground with a right for good measure to end it at 3:36 of the second round.

It was the second bad ending in a row for Babalu, a loser to Chuck Liddell last August courtesy of a highlight-reel kick to the head.

Cincinnati's Matt (The Hammer) Hamill, a popular deaf fighter from The Ultimate Fighter reality TV show, had little trouble disposing of 37-year-old Columbus local Rex (Big Dog) Holman via TKO at 4:00 of the first round to improve to 5-0.

In other undercard action, lightweight Jamie (The Worm) Varner choked out previously unbeaten Jason (The Gizzard) Gilliam at 1:34 of the first round and Brazilian lightweight Gleison Tibau dominated, but was unable to finish off Jason (Dynamite) Dent en route to a unanimous decision.

Welterweight Jon Fitch submitted Luigi Fioravanti by rear naked choke at 3:05 of the second round. Fitch dedicated the win to a friend who passed away Tuesday.

The UFC moves to Houston next, where St. Pierre will defend his welterweight title against Matt Serra on April 7 at UFC 69: Shootout. Then it's on to Manchester, England, where Filipovic fights Gabriel Gonzaga in the headline event of UFC 70: Nations Collide on April 21.

Notes: Fitch and Lambert both made their entrances to the sounds of Johnny Cash. Hughes entered to Hank Williams Jr., as per usual.