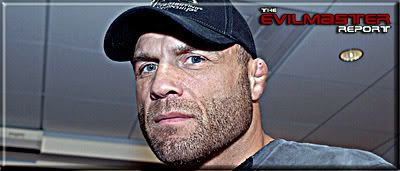 COLUMBUS, OHIO, March 2---One thing is certain: Columbus, Ohio UFC fans love Randy Couture.

Despite a slew of Midwest fighters stepping onto the scales today for the official weigh-ins for UFC 68 "The Uprising," scheduled at the Nationwide Arena tomorrow night, Couture received a staggering reception from the estimated 3,000 fans (a record for the UFC) who turned out to welcome the formerly retired fighter back.

Getting out their own backyard suited the Las Vegas-based promotion today, along with their scheduling of their event smack dab in the middle of the popular Arnold Classics weekend. Estimates today are on track for 19,000 spectators taking in tomorrow night's event, and if the UFC delivers, the mixed martial arts promotion will shatter all sports attendance records for the state. If they can draw 18,266 fans, the UFC will also break the North American attendance record held by San Jose, Calif.-based Strikeforce promotion for the last year.

Couture (14-8) seems to be one of the catalysts for this reception, taking to the scales a svelte 222.5 pounds by heavyweight standards. The former three-time UFC Light Heavyweight Champion dropped down a weight class to avoid specimens like his opponent tomorrow night in Tim Sylvia (25-2). UFC Heavyweight Champion Sylvia – who was met with a mix of boos and encouragement – registered 263 pounds onto his six-foot-eight frame.

Former 9-Time UFC Welterweight Champion Matt Hughes (42-5) made his mark comfortably at 171 pounds today. The Illinois farm boy takes on Indiana firefighter and "The Ultimate Fighter" season four finalist Chris Lytle, who came in at 169 pounds. Both are rebounding from instrumental losses from last November.

Homegrown Ohio native Rich Franklin (22-2) weighed in at 185 pounds on the dot, the former UFC Middleweight Champion's first appearance on the scales since last October's UFC 64, where he suffered a devastating loss to current champ Anderson Silva. Franklin draws Canadian Jason MacDonald (16-7) tomorrow night. The red-headed Halifax native – high after two back-to-back submission wins in the Octagon - measured in at 183.5 pounds.