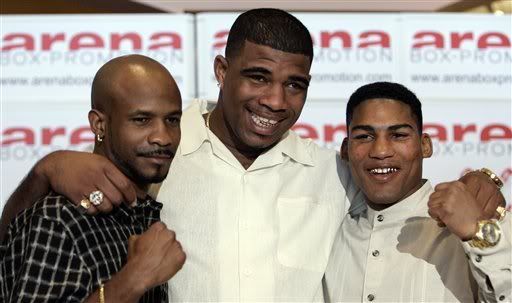 MIAMI BEACH, Fla. -- They couldn't hide the tears when they spoke of leaving their families. Yet three Olympic gold medalists who defected from Cuba are ready to begin new lives in a new country as professional boxers.

"We have a commitment with the people of Miami and the people of Cuba, it's true -- to become world champions," flyweight Yan Barthelemy said in Spanish during the group's first official news conference since arriving in the United States on Friday.

Fans will have to wait a bit longer for their first pro fight because a two-month delay in obtaining U.S. travel visas left the three fighters, "a little out of shape," according to their
Miami-based manager, Tony Gonzalez.

"They've asked for about six weeks to train, so we're looking at around April 13," he said.

Odlanier Solis, a 26-year-old heavyweight; Yuriorkis Gamboa, a 25-year-old super bantamweight; and 27-year-old Barthelemy stole away from their hotel while training in Venezuela for the upcoming Pan American Games and then crossed into Colombia.

There, they hit a snag until they could prove they were not planning to permanently move to the U.S. and that they planned reside in Germany.

Each fighter has signed a seven-figure, three-year contract with Hamburg-based First Artist and Arena with an option for two more years, not counting purses, Gonzalez said. They planned to fly to Germany on Tuesday before returning to Miami for training.

Solis and Gamboa left behind young children.

"It was a hard decision. It may be months or years before we see them," a tearful Solis said. "But I believe in the end it will be best for them."

All three were favorites in their weight classes to repeat at the 2008 Beijing Olympics.

Gamboa said he sold his 2004 gold medal last year to pay for his 2-year-old daughter's first birthday party. It's not uncommon for Cuban Olympic athletes sell their medals to earn cash to help their families, he added.

"You know things are hard in Cuba," Gamboa said. "I wanted to be able to give her the celebration she deserved as the daughter of a champion."