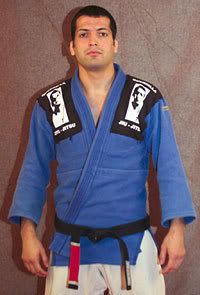 By Adisa Banjoko

For those that don't know, Dave Camarillo is a living legend in the art of Brazilian Jiu Jitsu.

If any of you guys out there love and watch the UFC, or Spike TV...You love the guys he trains John Fitch, Koscheck, Mike Swick, Cole Escovedo, Paul Buentello. In this interivew, we talk about how Dave sees himself, and also talk a abit about his book 'Guerrilla Jiu Jitsu' which I highly reccomend. There are video clips of him serving people flying armlocks and other levels of pain posted in this article. He's the only guy I know in Jiu Jitsu who's charcter, outshines his technique.

I also want to state for the record that I have not trained BJJ in a long time, but that when I train- I train with Dave at GJJ.

AB: It's good to be interviewing you again. It's been a long time. You spend so much time doing seminars, running your school and writing books it's hard to tell what you like best. You wear so many hats effectively. Do you consider yourself a teacher, or a fighter first?

DC: I think these things are considered depending w
here the Martial Artist is at in their life. Currently I identify with being an instructor more than anything else. I still train hard and donate my body to the development of our academy's fighters. But I am foremost an instructor. It is a change in role when a fighter becomes an instructor, in my opinion it is very difficult to do both. They require such a different outlook on day-to-day life. A fighter generally focuses on their training and winning. I now focus on my students and constantly re-developing ways to articulate the fundamentals of Martial Arts.

It is an incredible feeling when you teach someone something and they perform it in training or a competition. Just recently I have been spending a bit of time with my Wife's little brother. He started Jiu-Jitsu with me, had a few lessons and is already winning matches inside the Academy. Because he is so young (10 years old) I feel a certain closeness with him as if he is my son. It is a wonderful feeling to see him training and applying the techniques I have taught him. Part of his early success has to do with his ability to pay attention and preordained talent. But other than that I feel like the attention I have given him may have some direct result. His quickness in understanding the art has been a motivation for me to try and duplicate that kind of phenomenon in the Kids classes we have at American Kickboxing Academy.

Because of this constant drive to find innovative techniques and approaches to the application of Jiu-Jitsu I come to the conclusion that being an instructor is far more creative than a fighter. My actions directly affect others and hence I have an obligation to maintain a state of professionalism that comes with being an instructor. In a sense it keeps me in line, motivated and on a constant path to directly and positively impact the lives of others.

This role sheds a significant amount of responsibility to any head instructor. The way they carry themselves is of up-most importance as it reflects on the entire program. If I act irresponsibly it can't negatively influence my students who look up to me. This reminds me of the movie, "The Karate Kid", in what Mr. Miyagi (Pat Morita) said to Daniel LaRusso (Ralph Macchio) as they were talking about the impact of a Martial Arts Instructor. Mr. Miyagi said, "There is no such thing as a bad student, just bad teacher, teacher say, student do…". This sums the whole thing up for me.

The head instructor sets the mood and attitudes for the entire academy (dojo). If they utilize unprofessional behavior to squeeze loyalty out of their students in turn that will effect their students, students and thus the process will continue until broken.

WATCH: Daves patented flying armlock....OUCH!


AB: What books are you reading these days?

DC: I just finished, The Magic of Thinking Big by David J. Schwartz, Ph.D. It is an amazing book, which is furthering my path in reaching my goals and achieving success. It is an incredibly uplifting book, which focuses on creating a productive environment and a positive out-look on life that helps direct your energy in being accomplished. A good friend of mine has turned me onto this book and I have to say that it is one of the best books I have ever read. Mainly because my life has gotten far busier in the last year than it has been in a long time.

Three years ago I lived in a rat infested Warehouse. I taught kids chess two days a week and barely did any Jiu-Jitsu. I was basically in a mental dump and was having trouble getting out of it. That is when I got the job at American Kickboxing Academy and my life started to change. But even then I had lazy tendencies that would contribute to the stagnation of my potential. I basically still didn't realize my worth. After a few years I have grown to be more responsible (which is a process) and unknowingly applying many of the themes present in this book. Looking back I can see the change in my confidence, change in lifestyle and a mental focus that is directed in being productive beyond expectations. This book is basically a continuation of that process which is the ability to think that, "You are better than you think you are" and applying that to everyday life. I highly recommend this book to everyone!

AB: Your DVD Position Impossible is considered a breakthrough instructional on jiu jitsu DVD's (it's such an oversaturated market). What did you do to ensure it would stand out in such a sea of mediocity in the instructional arena?

WATCH: Dave spar w/ older brother Dan:


DC: Well first I would like to say that there are a bunch of great stuff coming out in the field of Jiu-Jitsu. And yes I call it a field because it is the most technical art (sport) in the world. It is not something that you just practice, it requires years of study to understand with it endless possibilities and the ability to accomplish something with minimal effort.

I do believe, however, that my instructional does stand out to a certain extent. I believe it to be the most in depth integration to bridging the gap between Olympic Judo and Brazilian Jiu-Jitsu ever created. This, along with my book Guerrilla Jiu-Jitsu, has been produced keeping in mind the years upon years that I have dedicated to these arts. They combine the technical aspects of Jiu-Jitsu with that of the raw and radical aggression of Judo. They share technical approaches, explain philosophies on both arts and also contain something that no other artist has ever shown. It has the most technical approach to the flying attack ever seen. And even though I preach technique first before anything else, it explains my philosophy on when your submission should start, changing the mentality that you have to be patient to finish your opponent. It is an aggressive style that will contribute to anyone who trains in either Judo or Jiu-Jitsu or fights in Mixed Martial Arts.