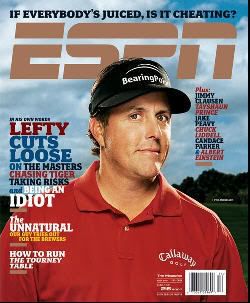 By Steve Sievert

In another sign that ESPN is getting more serious about covering mixed martial arts, Chuck Liddell goes on the record with one of the network's biggest personalities in the latest issue of ESPN The Magazine.

UFC light heavyweight champion Chuck Liddell - sans Nyquil - is featured in "Outtakes with Dan Patrick" in the new issue.

In the q-and-a, Patrick quizzes "The Iceman" on random topics, such as what was the last movie that made him cry (he got a little misty-eyed watching Rudy) and where he keeps his title belt (he doesn't know).

It's a decent piece that does Liddell justice and, thankfully, makes no mention of Tommy Morrison! You have to be an "Insider" (i.e., spend money) to get the issue online.

The Liddell feature comes on the heels of a recent online chat with Randy Couture hosted by ESPN's SportsNation site.

This could be a sign of more to come from the self-anointed "world wide leader." UFC President Dana White said recently he expected ESPN to begin covering the promotion with UFC 69. Of course, he said the same thing in relation to UFC 68.

On separate note, despite injuries sustained prior to and in his last fight with Tito Ortiz in December and battling a case of pneumonia recently, Liddell is believed to be on track to face Quinton Jackson at UFC 71 May 26 in Las Vegas. Jackson pummeled Liddell at Pride Final Conflict in 2003. The loss remains the only one Liddell has yet to avenge.