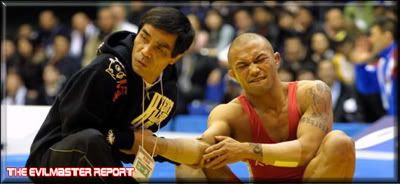 By Jordan Breen

In terms of extraordinary natural gifts, perhaps there's no one quite in the same league as "KID" Norifumi Yamamoto (Pictures). If you're cataloguing his God-given abilities, somewhere between punching power and astonishing strength, make sure to add in his recovery time.

After suffering a serious elbow dislocation at the Emperor's Cup wrestling championships last month, examining doctors tagged Yamamoto's right elbow with an estimated complete recovery time of three to four months, despite not requiring surgery. However, with Yamamoto needing to be primed and prepared to hit the mats again for the Meiji Nyugyo Cup in June, Yamamoto's Olympic dream seemed to be in serious peril, despite his insistence that he would be ready and able to compete.

However, just a month after the injury, Yamamoto has stated that he has fully recovered and resumed training, after taking a few weeks to vacation abroad in Hawaii and Arizona, where Yamamoto attended high school and won three state wrestling championships.

This development gives Yamamoto a better, albeit still fairly minuscule chance to earn a berth in the 2008 Beijing Games. By virtue of his opening round win at the Emperor's Cup, Yamamoto earned the right to compete at the Meiji Nyugyo Cup, the All Japan selections championship, in June. If Yamamoto wins the 132-pound freestyle division at the Meiji Nyugyo Cup he will face Emperor's Cup champion Kenichi Yumoto in a playoff match, with the winner representing Japan at the World Championships in Azerbaijan this September. "KID" would then have to place in the top eight at the World Championships, and win the 2008 Emperor's Cup to assure a Beijing Games bid.