By Mike Chiappetta

Nate Quarry never played a sport until his 20s; his next challenge is a comeback

Anything is possible.

That's what Nate Quarry believes.

But his mind wasn't always so big, so able to grasp the larger complexities in life that he sees today. Because life, it's often dictated by those around us. And if they don't tell us when we're young that anything is possible, how would we know?

Nate Quarry didn't know, not until well after the age where the decision he eventually made should matter. When we dream big as children, friends and family are supposed to tell us we can do it. When we dream big as adults, they're supposed to tell us we're crazy.




What then of Quarry, who dreamed big for the first time when he was already an adult? Excuse him for the late start, but his upbringing probably wasn't like yours. So when he was 24 years old, he was just learning things others had known all along. He'd discovered things about himself, about others that made him question everything in his life. The door of possibility was wide open, and he decided at the age of 24, that it was time to walk through it.

Here's the thing about professional sports. You don't just one wake up one day when you're already in your 20s and decide you're going to be a pro athlete, that you're going to hit Roger Clemens' fastball or chase Tiger Woods up the fairways at Augusta or trade punches with Floyd Mayweather. You're not supposed to be able to accomplish such specific, demanding goals at that late age.

There were a lot of things Quarry wasn't supposed to do at that age, either. Yet each time he did, he learned more that the world wasn't always what people said it is.

He was 24 years old, had never played an organized sport in his life. Not football, not baseball, not basketball. He'd never been to a dojo, engaged in a muay thai clinch, executed a single leg takedown or threw a left-right combination.

"I had," Quarry says, "a very different upbringing."

He was, in many ways, a blank slate.

Perhaps that's why the impossible seemed so attainable to him. He was questioning everything he'd been told, so if someone told him it was too late to chase athletic stardom, he'd tell them he needed to find things out for himself.

Breaking away

Self-discovery is one of those terms you hear on The Oprah Winfrey Show, a phrase that you'd never hear uttered on a sports broadcast. But for Quarry, it was a very real part of the journey to what he is now: a UFC fighter.

For his entire youth into his early adulthood, Quarry was a member of the Jehovah's Witnesses, growing up in the Christian denomination where life focused on school, bible study and home chores. There was no time for socializing or doing most things that most American teenagers do. Sports were forbidden.

"It's a very strict religion. In my mind, it's a cult," says Quarry, now 34 years old and a decade removed. "A cult needs to control its members 24 hours a day. They don't want them seeing that anything outside of their religion is better than what they're being offered inside that organization."

For years, this was his reality, his life.

A curious mind, however, is a difficult thing to contain. Quarry began slowly venturing away from his comfort zone and toward the rest of society, joining a gym to lift weights, meeting people that caused him to question what he'd been taught.

From time to time, he'd visit a local comic book store and chat with the owner. After a while, he became such a regular that the owner, a guy by the name of Jamie Hayes, asked Quarry if he wanted to meet up over beers later. This is one of many ways friendships are made, but for someone who'd lived such a sheltered existence, it seemed out of the ordinary. Hayes was not part of his religion, so why would he want to spend time with Nate? What would they talk about? Quarry declined the invitation, as he would time and again, until finally after a few months, he relented in his doubts and met the acquaintance for beers.

Seems like a good guy, he thought.

Not long after, Quarry met his family.

Genuinely nice people, he realized.

For Quarry, visiting their home was like discovering a new civilization. Within a couple of years, Quarry was the best man at Hayes' wedding.

"I was told from day one of being with the Witnesses that there are no good people outside of the church, that there is nothing else out there and that we're the happiest in the world," he says. "Then, I started to meet these people that weren't Witnesses, yet they were very nice people, they were helpful and kind. And I started thinking, this is different than what I've been taught. And it really opened my eyes and made me think more about what else is out there."

Which brings us to his other discovery. Around the same time, he was watching television when he saw a mixed martial arts broadcast and fell in love. A few days later, he stepped into an MMA gym for the first time. He was 24 years old, and it was the very first time he engaged in any type of organized sports.

"I walked into the door thinking, 'I'm a big guy, I must know how to defend myself,'" he says now, laughing. "I trained with guys that were 40 pounds lighter than me, and I was getting choked out and armbarred. It just amazed me how skillful they were with the things they could do so smoothly. I was hooked from that moment on. I realized this is a whole other aspect of life I've never seen before, and I wanted to be a part of it."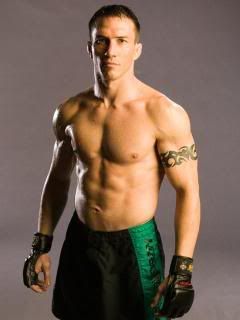 By this time, he was openly questioning everything he'd been taught. He left the church behind, was excommunicated and lost many lifetime friendships. He's spoken to one of his sisters just once in the last eight years, and only speaks with his mother three or four times a year ("I accept her life, and I hope she accepts mine," he says.).

But as a person, he was growing. And as an athlete, he was soaking up everything he was taught. After training for just a few years, including with current UFC heavyweight champ Randy Couture, he decided to quit his job at a sign company to train full-time.

The ultimate breakthrough

In 2001, he made his fighting debut against Drew McFedries on an Extreme Challenge card highlighted by Matt Hughes, and won via second-round TKO. All three fighters would later go on to fight in the UFC.

But his big break wouldn't come until late 2004, when he was cast on the first edition of UFC's Ultimate Fighter reality show. But then, before he had a chance to fight, he suffered an ankle injury. However, he'd commanded such respect for his performance and professionalism that Dana White asked him to stay on as an assistant trainer.

He made his UFC debut in the finale of the reality show, scoring a first-round TKO over Lodune Sincaid, then followed it up with two more first-round stoppages over Shonie Carter and Pete Sell. The fast-rising Quarry was green-lit for a title match against longtime middleweight champ Rich Franklin for November 2005.

That bout didn't go nearly as well, as he suffered a brutal first-round KO. The clip has been played ad nauseum by the UFC, Franklin landing a powerful left hook and Quarry falling back to the mat like a tree dropping to the earth.

But while the knockout was painful, what was even worse was the crash, re-injuring an already existing back condition, a degenerative disc that led to two vertebrae grinding against each other, causing constant pain. It was so bad that he couldn't lean over into the sink in the morning to wash his face, so bad he couldn't lift up or carry his daughter around.

The resulting operation was a major decision, one he waited several months to make until all the test results and diagnoses concluded that this was the best course of action, even if there was the possibility that he might never fight again.

"I believe with hard work, anything's possible," Quarry says. "What I've noticed so often is that people accept the fates they've been given. They're told by a doctor that they'll never walk again, be healthy again, so they believe that and accept it. In their mind, they say, 'this is my lot in life. This is the way it's going to be.' But I'm not that way. I've spent my entire life becoming that which I was never meant to be. I thought, I'm going to continue living my life the best way I know how and I'll get where I want to be."

The injury that could've ended his career has slowed him down, but hasn't stopped him. Three weeks after the surgery, he was hiking in the Nevada mountains. Six months after, he was training full speed. He feels his time away from the octagon gave him a chance to think about and examine his training and mistakes. He's changed his training regimen, focusing on specific disciplines that he feels his game was previously lacking. His strength is returning and says his boxing is much improved. The only thing holding him back from a return is ring rust and timing, but he's hoping to be back by the middle or end of the summer.

He has a few other projects in the works, too. He's been cast in a movie called "Never Submit," and he'll be on an ESPN show called "The Saltwater Experience," soon, joining with fellow fighters Alex Karalexis and Paul Buentello in taking children with multiple sclerosis on a fishing trip, giving them a chance to do something they might not otherwise get to do.

Until then, the question he hears the most is when he'll be back.

"I don't want to rush anything," he says. "I want to take my time, get in there, have a few real good battles to really remind me what fighting is all about – that you're supposed to get hit, you're supposed to get taken down, you're supposed to be in a bad position and fight your way out and come back and win. That's what I'm looking for, to get some of those wars under my belt and remember what fighting was all about."

That's what he's always done, even if it didn't always take place in a cage.

(Source)