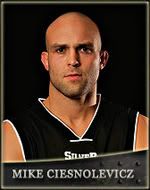 By Mike Ciesnolevicz

It's time to set the record straight.

Recently, the lightweight fighter for the Nevada Lions, John Gunderson, has said some things that agitated me. In two separate articles (IFL.tv and Knucklepit.com) he's insinuated that I'm ducking Vernon "Tiger" White and that's why Sam Hoger is fighting in my place on April 7th.

He's implied that I can't beat Vernon and my injury is a fake.

The truth is, I had my nose shattered in my grueling win over Alex Schoenauer, who is a really classy guy and a tough fighter. I had to have surgery on it and the IFL paid for my procedure, as everyone who reads the website already knows. The doctors told me I couldn't spar or grapple for eight weeks, so there is no way I could prepare properly for a guy like "Tiger" White.

Gunderson has never met me and the only reason he is saying these things is to try and play some mind games with our team. He's only had one fight in the IFL, so he hasn't earned the right to run his mouth. I've had five fights against quality opponents, and I'm riding a three-fight win streak right now, so there's no reason why I'd be ducking "Tiger" White.

I have a lot of respect for Vernon and for Ken Shamrock, but I have less respect for John Gunderson. He should worry more about what Bart Palaszewski is up to, and less about Mike C.

He's going to have his hands full when he gets in there with Bart in Moline on April 7th, and we'll find out then if he can back up his talk. Bart's an easy-going guy and a professional, so these head games don't bother him. We are all too strong mentally and physically for that.

A lot of people have been wondering whether Sam Hoger is replacing me on the Silverbacks. He isn't. He's a teammate who is stepping up to help us out when we need him. That's what teammates do. Sam is a free agent right now and can fight anywhere he wants, but I'll be back in the lineup on May 19th in Chicago, and then in the playoffs.

Our team is prepared and hungry right now. We are confident that we will beat the Lions. The only question is what the final team score will be. Don't get me wrong, we're not underestimating them or taking them lightly. We are simply a better team right now.

As for Gunderson, my guess is he's scared and he's letting his fear do the talking. He's trying to get in our heads, but it won't work. He'd have to hit the lottery to beat Bart. Sure, that happens sometimes, but I wouldn't bet on it. For his sake, I hope Gunderson can fight better than he can read.