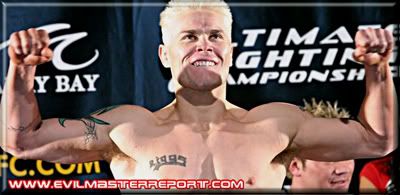 By Sam Caplan

By the sheer nature of their occupation, fighters face a great deal of adversity during their careers. But Joe "Diesel" Riggs has faced more obstacles than most.

Riggs, a talented fighter who was ticketed for super stardom, has failed to live up to the expectations of many. Despite possessing an impressive career MMA record of 25-9, Riggs has been treading water since November 2005, posting a record of 2-3. Give him credit, though: The man known to many as "Diesel" has not been fed a steady diet of cupcakes, having fought the likes of Matt Hughes, Nick Diaz, Mike Swick, and Diego Sanchez over the course of his last five fights.

Riggs' struggle extends beyond tough recent losses to Hughes, Swick and Sanchez. This is a man who by his own admission once weighed 310 pounds. And it was just last summer when he and his wife had to endure a parent's worst nightmare: the death of their infant son. That would have sent most people into a tailspin, but not Riggs. After taking a few months off to mourn, he resumed the sport he loves and used it as a way to help him through the tragedy.

The latest chapter in Riggs' storied career will be a return to World Extreme Cagefighting on March 24 in a match against Hiromitsu Miura. But things will be different during his latest tour of duty with the WEC; the promotion is now owned by Zuffa, the parent company of the UFC. As such, a bigger spotlight is now shining on the company, which features such top fighters as featherweight champion Urijah Faber and lightweight title holder "Razor" Rob McCullough.

Despite the increase in exposure for the WEC, the perception by many is that Riggs has been demoted, that he has been "farmed out" against his will. But that's hardly the case; Riggs made it clear that the move is one that he not only welcomed but asked for in hopes of jump starting his career. While the name of promotion he fights for has changed, his goal remains the same: to win a world title.

Q: March 24 will mark your WEC debut under Zuffa's ownership. Is this a move you welcomed or did Zuffa have to convince you?

JR: No man, I wanted it. I want to be in the premier organization in mixed martial arts. I welcomed it and I asked for it and I got it. I kind of threw a temper tantrum to get it, to be honest with you.

Q: What were some of your reasons for wanting to go from the UFC to the WEC?

JR: This organization is going to grow a lot. I see a lot of growth with it, and I see all the great fighters coming in, and I'm in this game to fight the best in the world and see what I got. And that's pretty much why I'm in the WEC.

Q: So you're looking at the WEC as a long-term home for you?

JR: I plan to be the world champ and stay the world champ and in becoming the WEC 185-pound champion being the best 185-pound champion in the world.

Q: So you're going to fight in the middleweight class?

JR: Yep. That's exactly what's going on.

Q: What's the timetable for the WEC instituting a middleweight title?

JR: I'll be fighting for that thing in June. That's what I've been told. I'm surprised I'm not fighting for it yet but certain things have kind of unfolded. It took awhile to sign the contract because I had some family problems so that's why it didn't happen yet but it's looking like June.

Q: Your opponent is going to be Hiromitsu Miura. Do you know much about him?

JR: I know absolutely nothing about him. He's a Japanese fighter. He has a record of 6-3. He's never fought anyone of my caliber, and I'm going to dispose of him like an old dirty sock.

Q: In preparing for this fight, have you changed anything with your training?

JR: Actually I went down here to California, Huntington Beach, to train with guys like Tiki Goshn, Rob McCullough, Tito (Ortiz) and all these guys. I've never been out here, I really like it. So a little bit, but I'm still doing the same things.

Q: You mentioned training with Tito. Are you a part of Team Punishment? Is that your new team?

JR: I wouldn't say I'm a part of Team Punishment. They're sponsoring this fight, but who knows in the future what's going to happen? I'm thinking about maybe moving my family down here. It's a beautiful area, it's great training partners, good facilities, and I like it.

Q: Without looking past Miura, are there any specific fighters in the WEC you'd like to fight?

JR: I'd like to fight Brock Larson, he's a tough guy down there. Jason "Mayhem" Miller. There's a bunch of guys out there that might try to beat me out of the title, but who knows who else they're going to bring in, what big names they're going to sign? But I welcome all challenges; I'm ready to fight anybody.

Q: Jason Miller hasn't been confirmed as going to the WEC as of yet, but if he were to be brought into the WEC, Jason Miller is someone you'd definitely like to fight?

JR: Yeah, yeah. Anybody that's a world class guy -- he's a great fighter. He's someone that's looked at as definitely a title contender. So yeah, I'd just welcome anything like that.

Q: Out of all the weight classes you fight at, what's the one you're most comfortable at?

JR: I just got my weight comfortable fighting at 170, but the reason why I choose to stay at 185 pounds, all the guys I train with say I'm more physical at 185 pounds, I'm more dangerous, I hit harder, and I keep the same speed. You know, I don't get any faster when I go to 170, but I lose a lot of strength. That's the main reason I dropped to 185, I'm just a tank at 185.

Q: What weight do you walk around at?

JR: You know, probably 210. I was 210 about a week ago.

Q: That's a lot to cut down from. What do you do to cut from 210 to 185?

JR: The first week is like a hard training. When I fought Diego Sanchez, I trained for like four months. That's way too long, so this time I stayed in good shape and I really turned the training up about four weeks out. So the first week is just taking the water weight out and then the next part is just dieting, getting the weight down to 200 pounds or 195 and just bringing the water out the couple of days before the fight.

Q: You've fought in a lot of different weight classes and you used to weigh close to 300 pounds. You've lost a ton of weight, what was the key in losing that much weight?

JR: I weighed 310 pounds, my man.

Q: (Laughs.) Sorry about that.

All it is mainly is just work ethic. The more you're serious about losing weight, just diet and do a lot of conditioning and stuff like that. Just keep your metabolism up, that's the main thing. Don't eat like crap. But I'm planning on putting a book out in the future so look for it on the shelves.

Q: You're really going to put out a book?

JR: Nah, I'm just joking.

Q: You went through a tough tragedy this past summer when you lost your infant son. You took some time off and came back and fought. What got you through that period of your life?

JR: My wife got me through that period of time and my family. It was the hardest thing I ever went through. Right now my wife is six months pregnant.

Q: Congratulations.

JR: Thank you.

What got me through it when I started training hard was to visualize my family. I make a really good living, that's why I do it. The reason why I do that is because I train so hard and I fight so hard. That's the main reason that got me from saying "pity poor me" to getting back and fighting so hard.

Q: Do you feel like the tragedy had an adverse affect on any of your performances in the cage?

JR: No, it didn't. The last fight against Diego Sanchez, even though it didn't go my way, that was the first fight I had where I was more mentally prepared. I fought Diego and I'm 10 times the standup fighter Diego is and he caught me with something stupid you know, and you can't prepare for something like that. A lucky punch lands, and anybody can knock out anybody. The tragedy that happened didn't affect me, really it motivated me. So that's what it was. What happened, happened. You can't really dwell on it; you just got to go on with your life.

Q: Did you seek any counseling after the tragedy?

JR: A little bit. I sought a little marriage counseling because what happened is hard on a marriage. My wife and I went through a lot of hard things. You know, that was the hardest thing to deal with; it's one thing for me as a father to lose a child, for my wife it's 10 times as hard. My wife is not fully over it, the only thing that made her get over the hump was to be pregnant again. So that was the main thing. So yeah, we did seek some counseling, and it got us over that little hump.

Q: With all the adversity you've faced recently, did you ever think about quitting MMA?

JR: At no point did I ever think about quitting. This is all I know.

Q: You had some issues with Matt Hughes stemming from an incident where you felt he disrespected you in front of your wife. Has your relationship with Matt improved, or do you still harbor ill will towards him?

JR: I haven't spoken to Matt Hughes since he said that. Actually, I haven't spoken to a lot of guys since he said that. I don't hate the man by any means. But, you know, there's no reason to say something like that, there's no reason to say something like that at all. I just think Matt has a certain cockiness about him. He might have been lost after getting knocked about by Georges, who knows. I haven't seen him after that but I don't harbor any ill feelings. I called him a d--- or whatever, and I think he is. I think Matt is a d---. He can be a nice guy, but at the same time saying something like that is not a cool thing to do and he's lucky I didn't punch him in the mouth for it, to be honest with you. But it just happened like that.

Q: For those that are unfamiliar with the event can you explain exactly what took place?

JR: He was with a sponsor of mine, and he came to Arizona (where Riggs lives) and the first time he had ever met my wife -- you know, I talked to him before that and he gave me his condolences for what happened, and he's like "Kimmy" -- Kim's my wife, and he goes, "Nice to meet you. Sorry I had to beat your husband up." I beat the s--- out of your husband, or something like that. And my wife was more disturbed by it than me. So that's where I said "What the heck is wrong with you. How dare you say something like that?" And there were little kids around, so I calmed myself down, took myself out of the situation a little bit.

I shouldn't really say those bad things about Matt because I don't know him too much on a personal level and everyone tells me he's a really good guy and I don't want to bad mouth the guy too much but that was a messed up thing to say and he shouldn't have said that.

Q: During your loss to Diego Sanchez at UFC Fight Night 7 there were some questions as to whether he hit you with an illegal knee. Did you have any questions about it?

JR: You know, I haven't really gone back and looked on it. Even if my knee was down or up, a knee's a knee. I was trying to get back to my feet and he stopped me from doing that. But that's (the knee) what knocked me out. When he hit me with the punch, that didn't hurt me at all, it was just I was on my heels and it knocked me down like someone pushed me over. So when he came out with that knee, I didn't really think about it being illegal. I think it was legal, I think my knee was an inch off the ground so kudos to him for timing it like that.