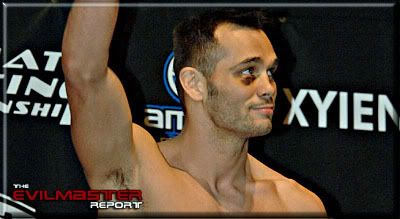 By Chad Edward

Former Ultimate Fighting Championship middleweight champion Rich Franklin wants another shot at Anderson Silva. And he wants it in his hometown Cincinnati.

After defeating Jason MacDonald on a corner stoppage due to strikes late Saturday at Nationwide Arena in Columbus during UFC 68, Franklin dropped the challenge on the man who took his title belt.

"I felt great in here tonight," Franklin told the capacity crowd of more than 17,000. "I'd be lying if I said I wasn't a little jittery."




Then Franklin called Silva into the Octagon.

"He's the champion," said Franklin. "He's a champion at heart."

The boos directed toward Silva from the pro-Franklin crowd turned to roaring cheers when Franklin announced Silva agreed to "rematch in Cincinnati."

Then the fighters embraced.

A UFC spokesperson said Sunday no contract has been signed, and there is no date or venue set, but the UFC wants to hold the bout in Ohio.

The Brazilian Silva (18-4) took the belt from Franklin (23-2) in October, winning by first-round TKO after a series of knee strikes to the head of Franklin, who couldn't escape Silva's Muay Thai clinch.

On Saturday, Franklin, a former Oak Hills math teacher, outclassed MacDonald. The two spent most of the fight on the mat, with Franklin maneuvering into position and hammering punches into MacDonald's head. MacDonald's corner threw in the towel after the second five-minute round.

Also on the card Saturday was Loveland alumnus Matt Hamill, who improved his mixed martial arts record to 3-0 with a first-round TKO. His opponent was Columbus native Rex Holman, who fell to 4-2 in MMA bouts.

Hamill started the action early by landing a flying Superman punch that left a cut on the bridge of Holman's nose. The cut became a target for the rest of the bout as Hamill peppered Holman with snapping jabs and straight rights and lefts.

The two former high school wrestlers clinched only twice, to neither fighter's advantage. As the first round neared three minutes, the 38-year old Holman was winded. A punch dropped Holman, and the better-conditioned Hamill pounced. The fight was stopped by the referee at four minutes of the first round with Holman lying prone and Hamill straddling his back and wind-milling punches into each side of his head.

(Source)