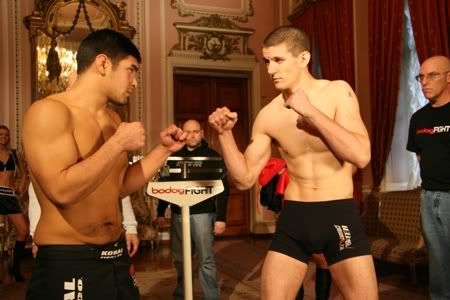 The action continues Tuesday on ION! Bodog.com Entertainment has unleashed its second season of mixed martial arts (MMA) action to fans worldwide in an incredible series of fights and behind-the-scenes drama. This week's mixed martial arts action features a quartet of hard-hitting welterweights. On Tues. March 13th, the fury continues with Gonzalez vs. Thorpe and Noble vs. Ellenberger.

On Tuesday's episode, Sweden's Diego Gonzalez tussles with England's Matt Thorpe, nicknamed "12-Gauge" because he claims he can hit the target from any range. The powerful 26-year-old striker will almost certainly look to maneuver Gonzalez into his sights. The slick Swede, meantime, is four years younger but has been a practitioner of the Shooto discipline since he was 12 years old. Gonzalez stands 5′ 8" and weighs 171lbs. His record is 6-3-0. Thorpe stands 6′ 4" and weighs 170 lbs. His record is 6-4-0.

These fighters will leave it all on the mat, with an opportunity to compete at BodogFight's April 14th pay-per-view spectacular, "BodogFight: Fedor Emelianenko vs. Matt Lindland, Clash of the Nations", at stake. Visit our award-winning web site www.BodogFight.com for more information, or to watch the BodogFight: St. Petersburg series via streaming video.