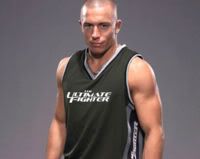 By Andy Cotterill

According to the official Web site of UFC spokes-model Rachelle Leah, in February she made the trek north to the beautiful city of Montreal to film an episode of the UFC show "All Access," with ever-popular Canadian welterweight champion Georges St. Pierre (Pictures).

The UFC hasn't scheduled the airdate yet, but they've historically been shown a few days before the pay-per-view, so look for this to appear on SpikeTV in early April.

I wonder if Georges took Rachelle for a smoked-meat sandwich, or maybe some poutine?