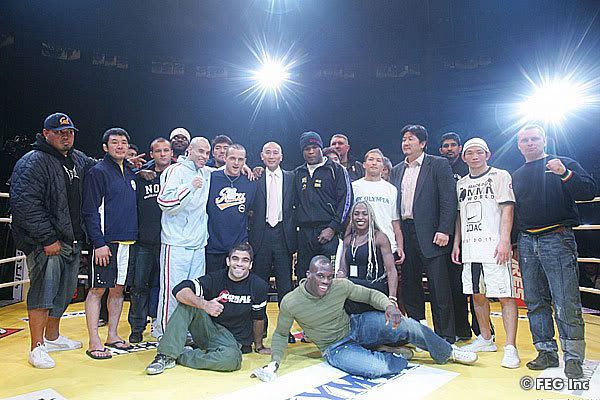 By Jordan Breen

Of course, coming off of its event in Nagoya, the week's hot topic has again become K-1 and HERO'S backer Fight Entertainment Group stating plans to enter the American market in the coming months, to offer opposition to Zuffa and the UFC.

Last month, Japanese sports media picked up the comments of both FEG producer Sadaharu Tanigawa and HERO'S executive Akira Maeda, both of whom indicated that they're serious about promoting HERO'S in America. Maeda said that he had already began planning the card's participants, while Tanigawa boasted the promotional motto of "Stop the UFC," stating that FEG has a global strategy and want to run four events in the United States per year, in an effort to slow the momentum of the UFC.

The early world was that FEG wanted to run a pay-per-view event stateside in May, or June from Las Vegas. Former NCAA wrestling champion and pro-wrestling superstar Brock Lesnar and MMA pioneer Royce Gracie would be the headliners for the bill, and talk was that FEG was interested in matching Lesnar against super-sized ssireum king Hong Man Choi, who made his MMA debut this past New Year's Eve, quickly thrashing variety show entertainer-cum-fighter Bobby Ologun in less than 20 seconds.

The media bravado continued this weekend in Nagoya, as Tanigawa revealed that he plans to hold a press conference in California later this month, where he will reveal the extent of the American plans for HERO'S. Tanigawa also said that the press conference would serve to upset UFC boss Dana White.

A proposed event now seems more likely for mid-June, and FEG and HERO'S officials have begun mentioning California as a planned destination for an American event. HERO'S executive Akira Maeda has said that he already has a host of American fighters in mind for the event, and that he plans to use "Mighty" Mo Siligia and Melvin Manhoef, as well.

Despite a new wave of talk surrounding FEG's American HERO'S endeavor, it is crucial to recognize the role of promotional bluster in the Japanese sports media, especially coming from Fight Entertainment Group.

This kind of talk is nothing new: in August, Tanigawa stated that Brock Lesnar would debut in February and headline HERO'S first card in the United States. We are now in March, and yet the American HERO'S card still exists only in the hype Tanigawa continues to generate in the press. However, we will get a good idea of how serious FEG are about their American event, with Tanigawa's insistence that he will announce his plans in the next two weeks or so.

Run-of-the-mill ratings for HERO'S

Japan's Video Research Ltd. reported earlier this week that the same-day telecast of the March 12 HERO'S card in Nagoya, aired on the Tokyo Broadcasting System from 9 p.m. to 10:54 p.m. drew a 12.1 rating. The highest rated fight of the telecast was the bout between Kazushi Sakuraba and Yurij Kiselov, which drew a 16.6 rating.

The rating is not a particularly strong one, though it is not weak, either. Strong one hour telecasts in the 9 p.m. to 9:54 p.m. timeslot, such as "Beat" Takeshi Kitano's weekly TV Tackle and drama Tokyo Tower: Mom, Me and Sometimes Dad both drew 13.8 and 14.2 ratings, respectively. However, it bested some of the HERO'S ratings from 2006, including the 9.3 garnered by the Aug. 5, 2006 telecast and the 11.8 garnered by the March 15, 2006 telecast. The May 3, 2006 card drew a 14.5, while the Oct. 9, 2006 card featuring the finales of the HERO'S tournaments, drew a 14.6.

The downside to the rating, however, is that it is the second lowest rating that the Tokyo Broadcasting System has recorded this year in the 9 p.m. to 10:54 p.m. time slot on Monday nights, besting only the Jan. 22 edition of Golden Monday's 9.9 rating. It is also considerably lower than the strong 16.4 drawn by the Feb. 5 K-1 MAX Japan Grand Prix telecast, which aired in the same timeslot.