By Greg Savage

COLUMBUS, Ohio, March 3 — Randy Couture (Pictures) had heard the critics writing him off as the hype for his return to the Octagon ramped up over the past couple months.

He wasn't given much of a chance against the gigantic heavyweight champion Tim Sylvia (Pictures). But before a record crowd for MMA in North America of 19,049, Couture emphatically answered any and all doubters with his domineering performance en route to a unanimous decision victory, locking up his fifth UFC title in the process.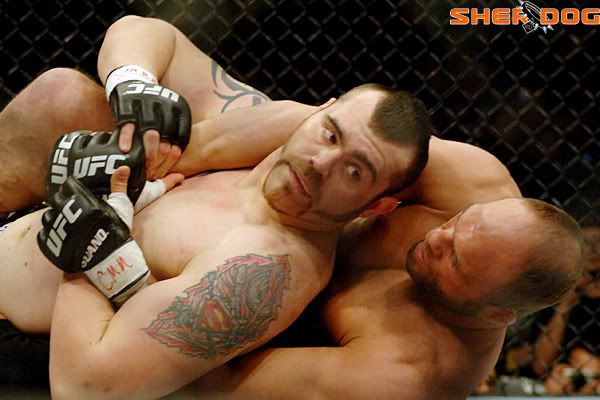 Fans didn't have to wait long to figure out Couture had a legitimate chance as he promptly deposited Sylvia to the seat of his pants just seconds into the heavyweight championship tilt.

"That was a strategy and a combination that I worked on a lot with my new Thai teacher at Extreme Couture [MMA]," Couture noted after the bout. "Left cut-kick, overhand right, left hook and it worked to a tee tonight right off the bat."

Couture eventually took the champion's back and spent the last three-plus minutes of the opening frame searching for the rear-naked choke. Sylvia defended well and made it to the bell.

The second round saw more aggressive stand-up from Couture. The overhand right was the weapon of choice for "The Natural" as he continued to find his mark.

After a trip takedown Couture went right to work from Sylvia's guard, scoring with several hard shots to the head. The champion, bleeding from the nose, looked bewildered by the 43-year-old's onslaught. Eventually he was able to stall the offensive enough to induce a stand-up from referee "Big" John McCarthy.

Sylvia's chance went by the wayside though as Couture shrugged off a decent left hand before planting the Iowa-based Sylvia back to the mat. After two rounds it was apparent the champion was completely frustrated as he headed back to his stool. A visibly disgruntled Sylvia could be seen shaking his head as he looked to his corner for instruction.

The third and fourth frames were more of the same.

Couture kept up the staggering pace, throwing the more meaningful punches and taking the fight to the mat whenever he got close enough to clinch or shoot. Sylvia had no answer for the venerable Couture, be it on the feet or ground. Couture kept up the head movement and when the fighters exchanged he consistently beat Sylvia to the punch. The right hand found its mark on more than a couple occasions and Sylvia's left eye showed the cumulative effects as it ballooned throughout the fight.

With the crowd squarely in his corner, Couture answered the bell in the championship round by immediately taking the fight back to the mat. Couture secured side-control after defending a weak leg lock attempt and eventually moved into the mount. Sylvia, in a last-ditch effort to hold onto his title belt, took a flurry of punches as he attempted to make it back to his feet.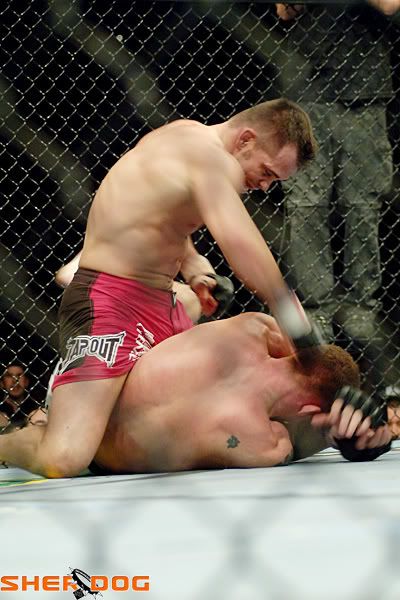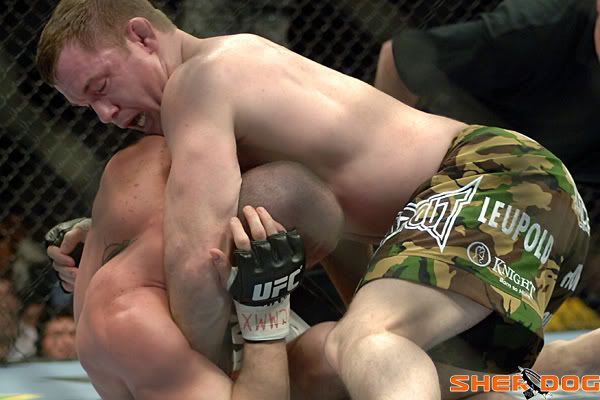 His effort was for naught as Couture instantly pulled the 6-foot-8 "Maine-iac" back to the floor, sealing the victory. As the round closed the soon-to-be new champion was able to finally enjoy the fruits of his labor.

"I didn't really realize what I had done until there were 10 seconds left," Couture commented after the bout. "At that moment, I sort of looked up and looked around and realized that I actually did it and I was able to enjoy it. But not until then."

As for the now former champ, Sylvia drew boos from the crowd when he made it known he had suffered an injury in training. His teammate Matt Hughes (Pictures) commented at the post-fight press conference that Sylvia had injured his back only a week before the fight and considered pulling out of the match.

Sylvia made it clear that he was not using his injury as an excuse stating, "I don't want to take anything away from Randy. Randy beat me fair and square. He's a stud."

He also went on to explain how Couture was able to take him out of his game plan for the whole of the five-round title match.

"When I thought he was going to stand with me, he shot. When I thought he was going to shoot he threw the hands," Sylvia declared. "He kept me off balance all night."

Next up for Couture is the winner of the Mirko Filipovic (Pictures)-Gabriel Gonzaga (Pictures) match scheduled for April 21 in Manchester, England. Couture told Sherdog.com that a potential fight with "Cro Cop" was a deciding factor in his decision to return to the heavyweight division.

Former champs return with wins

Rich Franklin (Pictures) took the first and possibly only step in his march back to the UFC middleweight title. After dispatching Jason McDonald, Franklin announced to his fellow Ohioans that UFC president Dana White had informed him he would be able to fight the rematch for his former belt in his hometown of Cincinnati, Ohio.

"I felt great in here tonight," Franklin said of his performance. "I'd be lying if I didn't say I was a little jittery. I'm coming off a loss … not only a loss, but a bad performance. This is my first win back and I know Anderson [Silva] is here. He's a great guy but I'm on my way back to you baby … I'm getting that belt back."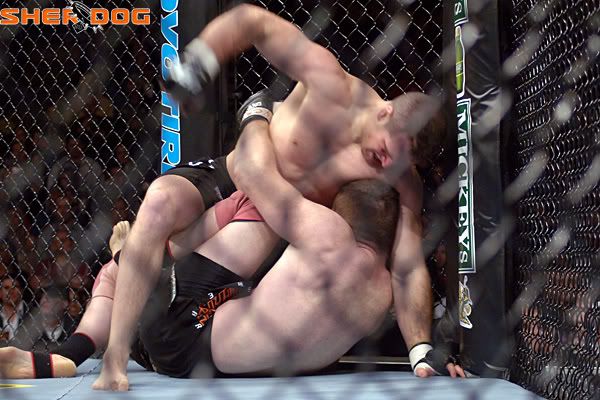 Matt Hughes (Pictures), also on his way back from a tough loss, had a more difficult time with crafty veteran Chris Lytle (Pictures). Hughes was dominant but could not finish the heavy underdog. The 15-minute affair saw Hughes control the fight by taking Lytle to the mat at will, punishing him with strikes on the ground and opening up a big cut over Lytle's right eye.

After the unanimous decision victory (30-27 on all three cards) Hughes commented about the learning process for a fighter, even a legend of the sport like himself:

"Well this fight didn't go the way I wanted it to. But I got the victory so yeah, hopefully I can take something from what I did today, my last fight, and become a better fighter."

Under card results

Jason Lambert (Pictures) survived an early rush by Renato Sobral (Pictures) to score a knockout win in the second round of their light heavyweight bout. The win garnered Lambert a couple extra checks, as he was awarded fight of the night and knockout of the night during the post-fight festivities.

Martin Kampmann (Pictures) ran his UFC record to 3-0 after a beautifully executed arm-triangle choke that put Drew McFedries to sleep at the 4:06 mark of the opening period. Things didn't look so good for the Danish fighter in the early going, as McFedries scored with heavy shots, nearly closing Kampmann's left eye in the process. However, the talented middleweight persevered and cinched the win by technical submission.

The Ultimate Fighter alum Matt Hamill (Pictures) continued his winning ways with a stoppage victory over former D-1 national wrestling champion Rex Holman. In a sloppy affair, Hamill used his quickness to outmaneuver Holman and eventually stop him when he ran out of gas at 4:00 of the first stanza.

Welterweight contender Jon Fitch (Pictures) did his best to back up his claim that he should have been on the main card for his bout with Luigi Fioravanti (Pictures). The former Purdue wrestler turned in a dominant performance before finishing the always-tough Fioravanti by rear-naked choke at 3:05 of the second round.

American Top Team-product Gleison Tibau rebounded from a disappointing UFC debut in November to score a unanimous decision win (30-27 on all three cards) over a hard-nosed Jason Dent (Pictures). Tibau controlled the fight from the top position and scored takedowns at will on his way to his first UFC win.

Arizonan Jamie Varner (Pictures) also got his first UFC win by handing Jason Gilliam his first professional loss. Varner was impressive, scoring the win via rear-naked choke just 94 seconds after the opening bell.