The mega popular and well renowned hockey enforcer, Steve Bosse is making his much anticipated MMA debut at TKO 29: REPERCUSSION. Bosse intends on changing the face of the Canadian Heavyweight Division, one knockout at a time. His first opponent on June 1st will be the hardnosed David Fraser. Bosse has an extensive boxing background and he's definitely shown that with his fights on the ice! Some may think a behemoth of his size would be just another, one dimensional, Heavyweight slugger. Think again!




Bosse recently started his MMA training with Marc Colangelo (a purple belt under Renzo Gracie) and Stephane Dube (outstanding MMA athlete). "I'm enjoying every minute of it!" said an elated Bosse. "I want the world to know that I'm very serious about my MMA career and I hope one day to become a champion. I am currently finishing my hockey season, but I've committed to being in the gym four days a week to train MMA with Marc and Stephane."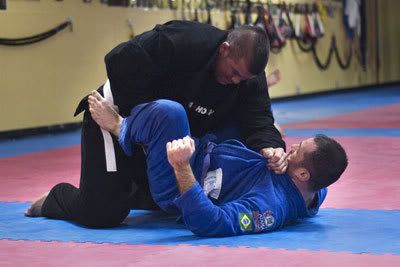 "Usually, when a big guy like this starts grappling he will try to use brute strength and ends up gassing after only one round of rolling on the floor", explained Colangelo. "But, I was very impressed with Steve. Instead of throwing me around the room, which he could, he instead chose to use his brain. He's a great student and a quick learner. He was even able to finish all the rounds in his first training session, a feat which is a rarity among new participants in my class".




"I was really impressed with Steve's first training session", said TKO CEO, Stephane Patry. "That's saying a lot because my expectations are very high for Steve. Usually, big strikers ignore the ground game and decide to rely solely on their standup. But not Steve as he is really proving his dedication to the sport with his willingness to throw himself into the unknown (grappling). When this guy learns what to do on the ground there might be no stopping him, not only in Canada but the world!". Stephane Patry once used these words for athletes such as Georges St-Pierre, Patrick Cote, Jonathan Goulet, David Loiseau, Mark Hominick, Sam Stout, Chris Horodecki and many others - his instinct for discovering future stars in the game are very well documented, is Steve Bosse the next big thing?

As always, stay tuned to www.TKOMMA.tv for the latest updates on TKO 29: REPRECUSSION, June 1st, 2007 at the Montreal Bell Centre! Tickets are on sale right now on the Admission Network (514-790-1245 or 1-800-361-4595 and at the Bell Centre ticket office!)

(Source)