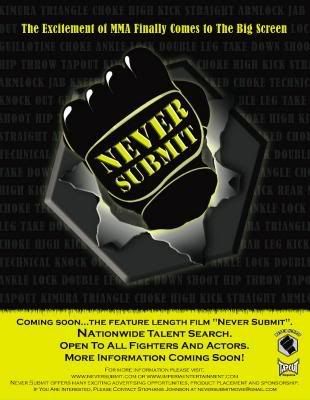 BEVERLY HILLS, Calif., Mar. 14 /PRNewswire-FirstCall/ -- Imperia Entertainment, Inc. (Pink Sheets: IPEI - News) and Muller Media, Inc. (Pink Sheets: MUME - News) announced today that they have secured $500,000 in rebates from the state of Missouri and will begin filming the MMA feature film, "Never Submit" in Kansas City on April 16, 2007. The company has retained veteran producer, Jeff Ritchie (American Crime) as producer. "We are very excited to have an accomplished producer such as Jeff on board and wish to express our gratitude to him and to the Missouri State Film Commission," said Kenneth Eade, Executive Producer. "We would also like to urge the dozens of product suppliers who have contacted us to finalize their agreements with us within the next ten days; because after that it will be too late to add their products to the movie," he added.

ABOUT "NEVER SUBMIT"
"Never Submit" is a movie set in the world of MMA, or mixed martial arts. The performances will be a mix of nationally recognized actors and fighters. Auditions are being held across the country looking for actors and fighters for the movie.

"Never Submit" is an inspirational tale similar to "Rocky," but the lead character is an intelligent young man (as are most fighters competing in this sport) rather than a beaten-down punch-drunk fighter. An amazing cast of characters will round out this film; each from different walks of life; each with his own set of circumstances and motivating factors driving him to be the best. "Never Submit" is a metaphor describing the way these athletes live their lives.

Imperia Entertainment recently announced a partnership with TapouT Magazine (www.tapoutmagazine.com) as part of a cross-country tour to promote the publication as well as the movie. Stops at select dojos to hold auditions for "Never Submit" are being finalized. TapouT Magazine readers can expect to see the mixed martial arts movie prominently featured in the bi-monthly publication throughout the casting, filming and theatrical release stages, as well as enjoy behind the scenes details from "Never Submit" director James Hergott, one of TapouT Magazine's newest contributors.

"Never Submit" is featured on myMMAspace.com. myMMAspace.com is the fastest growing mixed martial arts (MMA) destination site on the Internet. The site features traditional social networking features and tools like MySpace, but also provides specialized tools for MMA fighters, brands, promoters, and fans to communicate and interact in an MMA focused environment. www.myMMAspace.com The company's weekly internet radio show, Cage Side Live!, will feature interactive and entertaining interviews with MMA's top fighters, promoters, and personalities. Inquiries pertaining to potential sponsorship and product placement opportunities available for a limited time to companies/vendors and MMA media requests should be made via e-mail to Stephanie Johnson at neversubmitmovie@gmail.com

ABOUT IMPERIA ENTERTAINMENT
Imperia Entertainment, Inc. (www.imperiaentertainment.com) is a company that has emerged as a player in the area of independent film production and distribution, once monopolized by the major film studios. In conjunction with its distribution subsidiary, Imperia International Distribution, the company engages in investing in and producing and distributing full-length feature films. Along with its equity interest in "All That I Need" (www.allthatineed.net), released in theaters last year, and now being marketed for DVD distribution, Imperia's film properties include its feature film, "Say It In Russian" (www.sayitinrussianmovie.com), starring Faye Dunaway and Agata Gotova, "Brothers," by Tarquin Gotch ("Home Alone"), "An Ordinary Hero," produced by Imperia's subsidiary, Muller Media, Inc. (Pink Sheets: MUME - News), and the award-winning "Autograph" television series (www.autograph.tv), which airs on the OlympuSAT system.