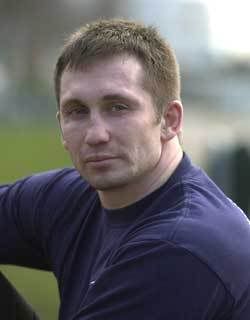 By Lee Whitehead

When a fighter announces his retirement leading up to the biggest fight of his career and the marketing machine is in full motion, you have to ask: "who the hell is going to take his place?" The answer is simple, someone afraid of nobody, aware of the challenge and willing to throw everything into the mix to get the job done… out goes Buzz Berry and in steps Gary Turner.

Turner has accepted the fight with the monstrous Bob Sapp at Cage Rage on April 21st. An opportunity that came about when Sapp's original opponent Buzz Berry decided that it was time for him to retire. Turner is a tough, intelligent and charismatic fighter with solid Kickboxing skills.

MMAWeekly: How did this deal come about?

Gary Turner: "Well, great opportunities suit great opportunists, and I am always in condition and ready to go. When Buzz retired and the offer was put towards me I was very pleased. I normally maintain fighting shape all year round. Put it this way, if someone gave me an option to fight this weekend and I wasn't contracted I would take it."

MMA: So does this mean Cage Rage have signed you to the usual 4-fight deal?

GT: "The specifics of the deal are still being ironed out, the Sapp fight has been contracted and the key here is that I wanted a multi-fight deal, it will likely be a three fight deal with them."

MMA: Sapp is signed and sealed, where does this leave your other commitments?

GT: "I will still be fighting Tom Blackledge on Paul Murphy's Ultimate Force show on the 19th of May, that has been agreed as part of my contract with Cage Rage and I am really looking forward to it, but at the moment my focus is on Sapp."

"I also have other commitments to honor with regards to kickboxing with confirmed fights in South Africa, Florida and Dubai before the end of the year."

MMA: And after Blackledge, who would you like to face?

GT: "Literally anyone, if they said to me we have got you Fedor, I would take that as well. I don't care, I will fight anyone they put in-front of me."

MMA: How do you feel about the size difference to Sapp and what weight will you come into this fight at?

GT: "I normally walk around at 99.5kg (about 220 pounds) as I train so intensively. Leading up to a fight I will start carbing up on Monday and come fight time will normally be around 105-108kg (about 231-238 pounds), for this specific fight I think I will be around 102kg (about 225 pounds). Overall the size doesn't bother me, I think the UK and the US has gotten into a routine of doing things in MMA and I plan on coming into this with a fresh approach to a lot of stuff."

MMA: Who are you going to be training with in preparation for this fight?

GT: "I will be keeping my boxing and kickboxing coaches as per usual, they work very well together looking at footwork, angles, circling and straight punch combinations as well the application to MMA so you don't leave things like trailing legs to be collected; in addition to them I will be working with Alex Reid, Pete Mercer, Gaz Roriston and a guy we call Tiny who is 160kgs (about 353 pounds) – he will be doing all the lay 'n pray stuff!"

MMA: Finally, what is your strategy going to be coming into this fight?

GT: "I can tell you what Sapp's strategy will be. He will come in with a tight guard, nice and low and try to back me up into the cage, take me down, lay on me and pound away. He knows he will gas and he knows I will be lighter than him. He will plan on overwhelming me. That said, I believe that 'he who makes the rules wins' so why should I fight according to a strategy he expects. I plan on coming out with a fresh approach to MMA and doing some stuff that even more talented people than me will be able to continue and improve upon in the future. As I said before, we have become quite limited in our approach here now so Sapp can expect something fresh."

In closing, it appears that Turner has his head in the right place. He is aware of the challenge ahead and is looking forward to the match with gusto.