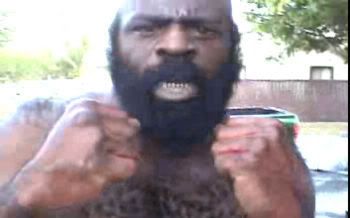 By Touchgloves.com

LOS ANGELES, CA, - A relative unknown in the professional boxing world, Kimbo Slice is anything but unknown to mixed martial arts (MMA) fans. Slice has been propelled to rock-star status, with a series of raw footage video clips that show him in bare-knuckle brawls and sometimes taking on two opponents, back-to-back. With a knockout style reminiscent of a young Mike Tyson and an intensity parallel to many world champion fighters, Slice has attracted fans from all over the world who crave to watch him in action.

Characterized as an underground street fighter, Slice will be taking on former Heavyweight Champion Ray Mercer on June 16th at the Boardwalk Hall in Atlantic City in an MMA Cage Match. In an exclusive interview with touchgloves.com Slice talks about his upcoming fight, his training and more.

Kimbo, thank you for taking the time to do this interview. How did you get started in the backyard-style street fights we've been seeing over the Internet?
The backyard was just a location that was picked. It was a personal beef between the guy and myself. It was a location that was picked and it started the whole backyard theme.

Do you have any formal training in boxing or mixed martial arts?
No, no I don't. I've had a lot of fights on the ground. You know, a fight is a fight, you are as good as you are.

A lot of the videos show you having a boxing style. With the upcoming fight against Ray Mercer in a Cage under the rules of the New Jersey Athletic Board, are you now looking to change your style towards MMA?
I'm gonna bang it out, he wants to bang, we are gonna bang.

Have you ever considered Professional boxing?
Considered it. I've thought about it. But MMA is the next wave, its the new era. If anything I'll stick with MMA. I wouldn't box because its [MMA] is closer to the real thing. If I can do the real thing, its better.

Sounds like fighting Ray Mercer is not a one-time deal and you will continue to fight in MMA in the future.
I love fighting. I will do whatever I have to do as far as training, and getting myself to that level so that I could continue and look at it as a career. This will not be my only fight.

What are your thoughts on Ray Mercer and have you watched his past fights?
I mean, you know, he's fighting. I would never disrespect anybody or underestimate anyone. I have respect for everyone as a fighter. Especially as a professional, he's a professional boxer. I give him all the respect in the world as a fighter. When two men get in the ring, the best man is gonna walk out of there. The better man is going to win. I have all the respect in the world for every fighter. NOTE: Mercer happened to be fighting on TV against Evander Holyfield during this interview.

Have you started training? Are you doing anything different now?
I am training. Nothing different. I stay in shape all the time, because I never know when a fight is going to come up. I'm not changing my routine.

Should we expect to see more of the video series we've seen on the Internet?
Yeah, there's about 10 more [fights].

What has been the driving force behind your fights and influenced you to fight?
I'm fighting to get paid, take care of my family and myself. Yeah, I love to fight. I'll bang it out with anybody, but at the same time, if the purse is good, damn right, I'm there.

You've attracted a lot of attention and a lot of fans around the world. Why do you think they are drawn to you.
The realty part of it. I'm a real dude. You'll see me around, holding my kid, you'll see me at the mall. I'm not a fake dude. I'm a real life dude. I'm just like the average guy out there except that I have no fear that I'll bang it out with anybody, I don't care who that guy is. With all due respect to fighters. That's what makes me different and my fans around the world, I'm sure they love that. I'll see you and say whats up to you and we can get together and share a burger or a soda. It's real life stuff you know.

Do you have a prediction on June 16th against Ray Mercer?
I'm gonna get in there and do my best. I'm gonna give 110%. I'm not gonna sit down, I'm ready to bang it out you know.

Anything you want to say to your fans?
Stay tuned. After the fight, catch me "in the VIP", and stay with it. Keep me in mind and keep me in your prayers.