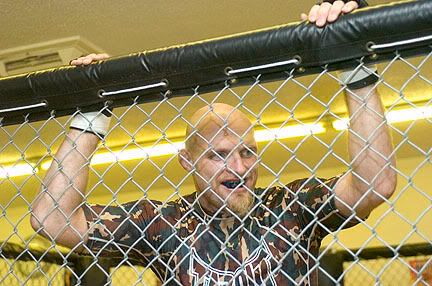 By Steve Sievert

Despite reports that Keith Jardine will meet Tito Ortiz at UFC 71, the fight has yet to be nailed down.

In talking with Jardine Saturday night at UFC 68, he told Brawl Sports that the UFC is still figuring out how to position the rising light heavyweight, who shook up the division by upsetting Forrest Griffin - and almost assuredly robbing Griffin of a title shot - in December.

The 31-year-old Montana native, who fights out of Greg Jackson's Albuquerque camp, would welcome the chance to face T-O, but he has yet to ink paper that would consummate the bout.

"I talked to (UFC matchmaker) Joe (Silva) the other day, and he told me they really do not know who I'm fighting yet. I think they don't know what to do with me right now. Whoever I fight next, I'm going to be beat, so they gotta figure out who they want to risk. They know I'm a contender, but I think they want to build me up a bit more."

On another note, "The Dean of Mean" confirmed what most fans suspected, he would not fight Rashad Evans, even though a matchup between the two would be a compelling title elimination bout. As stable mates, they have agreed that a matchup is off the table.

Jardine considers Evans the No. 1 light heavy contender.