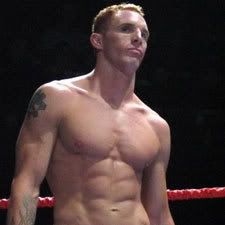 By Andy Cotterill

Following two spectacular submission victories over Ed Herman and Chris Leben, Red Deer, Alberta's, Jason "The Athlete" MacDonald has transitioned from almost a complete unknown into a fan favorite.

Whether it was the way he authoritatively dismantled two of the most vocal Ultimate Fighter alumni, or the bold statement telling the UFC that "I'm nobody's steppingstone," MMA fans can't seem to get enough of him.

I've met Jason many times, and one thing that impressed me each and every time was his unwavering belief in himself and his abilities. He has always said that he considers himself in the top five middleweights in the UFC, and only wants to prove himself by fighting the best. This weekend he's been given that opportunity.

Jason will face off against former UFC middleweight champion Rich Franklin, returning for his first fight since losing his belt to Anderson Silva, in a featured fight at the Nationwide Arena in Columbus, Ohio.

This is going to be an extremely tough fight for Jason, and once again he's coming in as the underdog, a role that he's gotten used to. There have been two separate camps of prognosticators that have emerged when talking about this fight.

The first thinks that Rich will come out decisively with the goal of erasing any doubt placed upon his quality after his devastating loss to Silva. The second feels that due to that loss, Rich just won't be the same fighter, a la Wanderlei Silva after losing to Mirko Filipovic.

Jason doesn't plan on making Franklin's job any easier either, as he has extended his training routine and has gone to New Mexico to join Greg Jackson and his gang to prepare.

"It's crazy man," MacDonald told me, "They'll just go out to a mountain and run up and down it."

When I asked Jason how he hooked up with Jackson, he told me that it was initiated at UFC 66 when he was in the same dressing area as Keith Jardine, who fights out of Jackson's. Just before Jardine was set to head out to meet Forrest Griffin, Jason stuck his head into the dressing room to wish him good luck.

Apparently joining Jackson's team isn't an easy thing. Jackson is no dictator, and if a fighter makes a request to come for training, the decision is discussed amongst the whole core group. They decide if the fighter will mesh with the team.

Jason says they told him it was his "good luck" to Jardine that put him over the top.

MacDonald is definitely aware of the opportunity that's been handed to him, in fact according to Neil Davidson of the Canadian Press, this past Monday in a conference call with Dana White, the UFC president claimed that the winner of the MacDonald-Franklin fight is "in line for a title shot."

Not too bad for a steppingstone, eh?