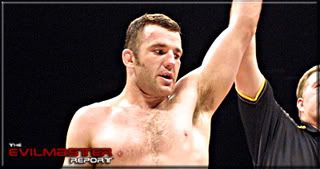 By Jordan Breen

Another injury has hit the UFC's next Fight Night card, scheduled for April 5 at The Pearl, in Las Vegas. Coming off of a loss to rising 170-pound star Jon Fitch in his UFC debut this past Oct., Kuniyoshi Hironaka was scheduled to make his second foray into the Octagon against tough Canadian Jeff Joslin, who also was unsuccessful in his first Octagon bid this past January against Josh Koscheck. However the injury bug, which had already struck scheduled competitors Frank Mir and Anthony Torres, has forced Joslin off the card.

Replacing Joslin against the Japanese BJJ ace will be two-time UFC veteran Forrest Petz. Like Hironaka, Petz is coming off of a loss in the UFC this past Oct., when he was submitted by TUF 2 alum Marcus Davis. Hironaka elated some excitement in the switch from the very well-rounded Joslin to the striking-oriented Petz, saying that he was excited to have an opponent who would definitely rather strike with him, and that he hoped to show off his own striking abilities in the cage.

The April 5 Fight Night card will feature a pronounced Japanese influence. In addition to Hironaka, Shooto Pacific Rim champion "K-Taro" Keita Nakamura will take on the battle-tested Drew Fickett and ZST standout Naoyuki Kotani will take on hot Brazilian prospect Thiago Tavares. On the main televised portion of the card, veteran Dokonjonosuke Mishima will look for better luck in his second go-around in the Octagon, meeting former UFC lightweight title contender Kenny Florian.