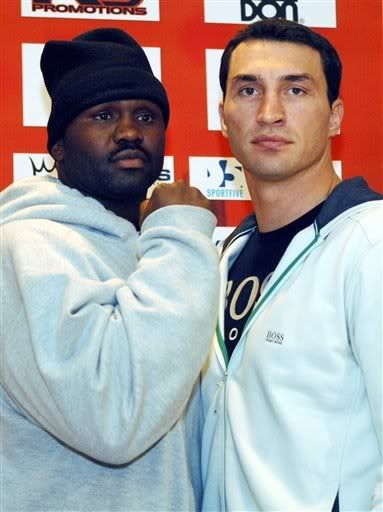 Ray Austin to Use Grant Gloves

After rejecting Don King's suggestion of a coin toss to solve a glove dispute that erupted late Friday afternoon and jeopardized Wladimir Klitschko's defense of his IBF heavyweight title tonight against No. 1-ranked mandatory challenger Ray "The Rainman" in Mannheim, Germany, the Klitschko camp had a change of heart this morning and agreed to a coin toss to solve the problem. It had already been contractually determined that Klitschko would use Grant gloves. The coin toss would only determine if Austin would wear Klitschko's preference of Grant gloves or the challenger's choice of Reyes gloves.

IBF President Marian Muhammad flipped the coin in the lobby of the posh Europaische Hof Hotel at 2 p.m. local time, which was won by the Klitschko camp. Austin will use Grant gloves tonight at the SAP Arena. "The decision to have a coin toss to determine the gloves was a good one and we will abide by the result," Austin's promoter Don King said. "I'm happy to see this dispute was resolved through good sportsmanship rather than dictatorship. We look forward to a great match tonight in Mannheim."

The IBF also announced that Eddie Cotton will be referee the Klitschko vs. Austin main event. The judges will be Roy Francis from the United Kingdom; Steve Weisfeld from New Jersey; and John Wright from Australia. Daryl Peoples will act as supervisor for the IBF. The match can be seen live in America on HBO beginning at 4:45 p.m. ET/1:45 p.m. PT and again on a same-day replay at 10 p.m. ET/PT.