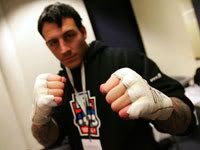 By Ben Fowlkes

Like most MMA fans of a certain age, Justin Levens grew up watching Sabres light heavyweight Vladimir Matyushenko. As the sport began to take hold in the early years of the new century, the Belarusian wrestler Matyushenko seemed to be everywhere.

In a three year span he faced nearly every fighter of consequence, guys with names like Ortiz, Arlovski, Nogueira, and Rizzo.

Fans like Levens saw it all on TV, and could only dream of one day being there themselves.

"I was really in awe of him," admitted Levens. "He was the big time."

So imagine what must have gone through Levens' mind when he found out that on March 17th, when his So. Cal. Condors meet the Sabres at the L.A. Forum, his opponent would be the man he had grown up watching.

Certainly, Matyushenko (16-3) is a fighter whose reputation precedes him. Even with just nineteen pro fights to his credit, it is widely acknowledged that he is among the most experienced and skilled of the IFL's 205-pound fighters.

He was a national wrestling champion at the University of Nevada after coming to the U.S. from Belarus, where he trained with the national team. When the opportunity arose to join Ken Yasuda's Sabres, Matyushenko jumped at the chance, quickly dispatching his first opponent – the Scorpions' Duane Compton – in just under two minutes.

To a man like that, it might seem that Levens (9-4) is just another name on a checklist, someone standing between him and his ultimate goal of climbing to the top of the division.

But to Levens, the match is the opportunity he's been waiting for.

"Obviously he's a great fighter, so to beat him would be huge," said Levens. "Just being up against him feels good because it feels like the big time, where I always wanted to be."

Levens has also built up a reputation, one that comes largely from the fact that until his last bout against Reese Andy, he had never seen the second round in a pro fight. His aggressive striking attack usually resulted in a quick finish in his favor, though sometimes it was his undoing.

This reputation, of course, is not lost on his opponent.

"He's a brawler," Matyushenko said of the Condors fighter. "He comes out fast and throws a lot of big punches. I just have to be calm."

Despite the personal significance of the match for Levens, for Matyushenko it will likely be just another night at the fights.

He says the fighter he'd really like to face will have to wait until the postseason or the individual Grand Prix. Only then will he have a chance at a third match with fellow MMA veteran Vernon "Tiger" White, who handed Matyushenko his first career loss.

"He knew I won that fight, but he ran his mouth anyway," Matyushenko said of his decision defeat at the hands of the Lions fighter. "I don't usually say anything bad about other fighters, but him I just don't like."

However, if Matyushenko thinks he'll get an easy walk through against an overaggressive brawler when he steps in against Levens, he may be in for a surprise.

After his decision loss to Andy in January, Levens says he has learned a great deal about how to fight a skilled wrestler, and he expects that experience to come in handy in L.A.

"I was definitely too aggressive in that fight and I learned from it," Levens said. "I think Andy is actually a better wrestler than Vladimir is. I know that I have to be more patient and avoid the takedown, and that's what I'm going to do."

Though he has prided himself in the past on his explosiveness and quick finishes, Levens says he has now matured into a more tactical fighter. He knows that if he charges out and tries to overwhelm Matyushenko, he could easily wind up in a submission lock.

He also knows that if his Condors are going to notch a team victory against the well-rounded Sabres, they'll likely need a win in the light heavyweight class.

"All these fights are going to be wars," said Levens. "No one is going to have an easy time, but I think we can beat them."

With both teams entering this match at 1-0, a win could all but seal a spot in the playoffs. But as significant as the March 17th fights will be for his team, they hold even more personal importance for Levens.

For the kid from Philly who idolized fighters like Matyushenko as a teenager, it's the chance to step in against a personal hero.

It is clearly the biggest fight of Levens' career, and an opportunity he can't afford to waste.