By Monty DiPietro

NAGOYA, March 12, 2007 -- Middleweight Japanese mixed martial arts sensation Hideo Tokoro confirmed his status as an elite Hero's fighter by submitting Kazuya Yasuhiro in the Main Event tonight at the Hero's 2007 in Nagoya. In other action, K-1 star Mighty Mo destroyed Min So Kim, and 38 year-old Sakuraba showed he still has what it takes by dispatching challenger Yuri "Playboy" Kyselov.

It was just two years ago that K-1's governing body the Fight Entertainment Group (FEG) organized its first Hero's event at the Saitama Arena. The hugely successful mixed martial arts fight production is going global this year, with full details on Hero's entry into the United States expected within weeks.

At the Nagoya Rainbow Hall, Hero's first event of the '07 season saw twenty-two fighters square off in eleven bouts. K-1 fighters were represented right up to the Main Event -- a 70kg/154 lbs Hero's Middleweight bout which saw Hideo Tokoro taking on Japanese Seidokaikan fighter and K-1 Max regular Kazuya Yasuhiro.

The pair tested with jabs from the start before Tokoro closed for the single leg takedown and full mount. Yasuhiro tried to buck him off, but Tokoro deftly wrapped the legs round, grabbed an arm and hyperextended for the tapout and the win. It was one of many first-round armbar victories on the night.




"I felt some pressure when the fight started but I remained patient," said Tokoro, who hails from nearby Gifu, in his post-bout interview. "When it was over it felt different from a fight in Tokyo, because I heard my friends and family yelling and screaming!"

A couple of K-1 veterans, Trinidadian-Canadian Gary Goodridge and Jan "The Giant" Nortje of South Africa, took to the ring in a matchup of power versus power. Nortje got his opponent in the corner early on and threw a dozen punches, but an ever-bobbing Goodridge -- his palms held against his head and elbows pressed together -- evaded, blocked or absorbed these with no apparent ill effects. Goodridge then went on the offensive, launching a high kick and then firing in the fists to put Nortje on the mat. Looking nimble now, Goodridge circled, picking his spots and putting in the punches. When Nortje did not respond, the referee stepped in to call it for Goodridge.




Fresh from his dramatic KO win over Hong Man Choi at the Yokohama K-1 GP event, American boxer Mighty Mo came to Nagoya to take on Min Soo Kim, an Olympic silver medallist in judo who is immensely popular in his native South Korea, and just might have felt a patriotic duty to avenge Choi.

The pair were cautious through the early going before suddenly exploding with punches. The fisticuffs favored Mo in a big way. Even as Kim was throwing a left, Mo came in with a devastating right hook that caught the Korean hard on the side of the jaw and set him stumbling. Mo chased his opponent round the ring, and although Kim strove to mount some sort of counter attack, clearly he needed to get Mo to the mat, but could not. After a few big fists made partial contact, Mo hit the sweet spot once again, and Kim want down hard. In an admirable show of sportsmanship, Mo did not pounce in and pound home the point, pausing instead to allow the referee to make his way in to stop the fight.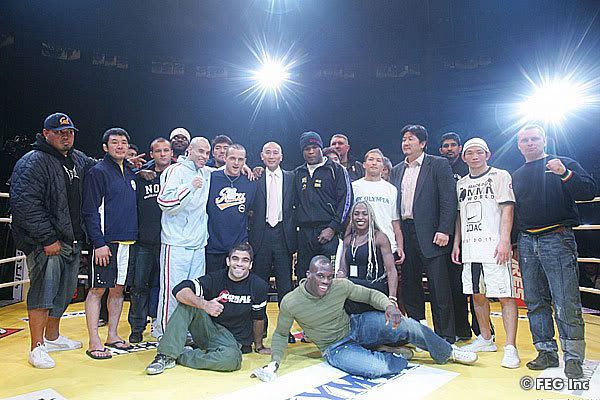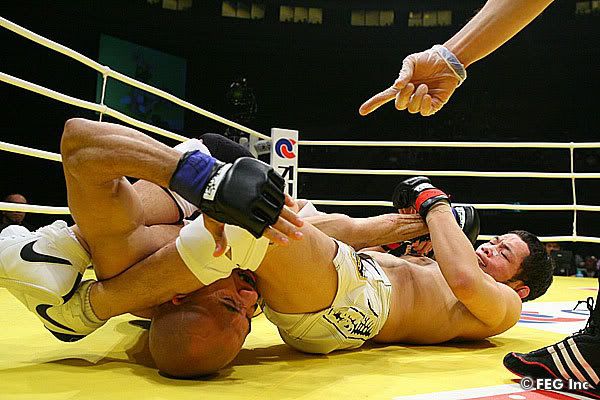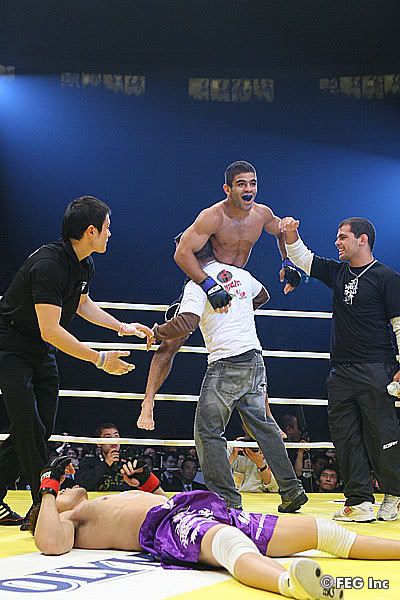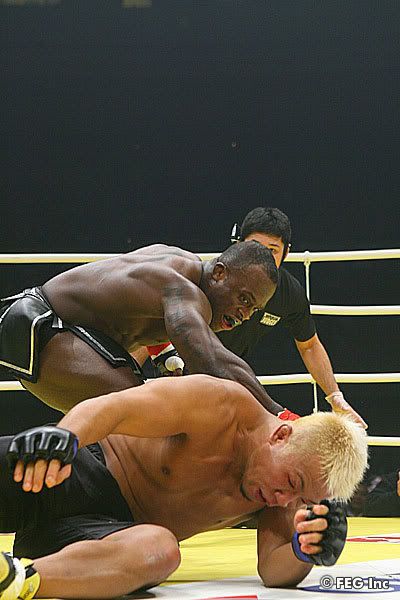 Said Mo afterwards, "This year, I aim to be both the Hero's and K-1 World Grand Prix Champion!"

Another K-1 fighter, 31 year-old kickboxer Melvin Manhoef of Holland, displayed his formidable mixed martial arts skills at the expense of Japanese Pancrase fighter Yoshiki Takahashi, who had stepped in hoping to celebrating his 38th birthday with a win.

Manhoef's cornermen spent an inordinate amount of time wiping down their fighter's legs before the bout, and were shown a yellow card for this. But the issue became moot, because Manhoef made short work of his opponent -- staying on his feet, connecting with a high kick then a right punch to down Takahashi. The Japanese fighter struggled to find his feet, but Manhoef laid in with right hooks to thwart him, earning the win when the referee decided Takahashi was out of the fight and not coming back. Happy birthday anyway, Yoshiki.

Legendary Japanese grappler Kazushi Sakuraba met judo and kickboxing stylist Yuri "Playboy" Kyselov of the Ukraine in an 85kg/187lbs bout.




Sakuraba got the single leg takedown quickly. Kyselov resisted from the guard, punching and twisting, but Sakuraba persisted and made the most of his positioning, getting a hold of his opponent's right arm before wrapping his legs round and flipping Kyselov into an armbar and tapout.

"I'm very happy," Sakuraba told a throng of reporters in the interview space, "I can't wait to get out of here and go drinking!"

In other 70kg/154lbs action, it was veteran Caol Uno of Japan taking on Ali Ibrahim, an Egyptian mixed martial arts fighter making his Hero's debut.

An aggressive Ibrahim came in with a punching attack and got an early takedown, going all out for the ground 'n pound. But Uno worked his legs well from the guard, powering them round his opponent's upper body and twisting for a reversal, then extracting the right arm and hyperextending for the submission.

Also at 70kg/154lbs, wrestler Kazuyuki Miyata of Japan met muay thai and mixed martial arts fighter Black Mamba of India. Miyata wanted to take the fight to the mat, and achieved this on his third takedown attempt. Some creative maneuvering by Mamba -- including a strong escape from what appeared a decisive armbar -- kept Miyata at bay for a time. But late in the opening round, with the pair bound up in an unusual tangle, Miyata found purchase on his opponent's neck, tightening the choke to earn a tapout win.

Another Middleweight contest saw wrestler Ryuki Ueyama of Japan mix it up with Brazilian jiu-jitsu fighter Vitor "Shaorin" Ribeiro. The pair went to the mat early, and after some spirited reversals, it was Ribeiro who found the position of advantage, working an armbar for the submission. An impressive Hero's debut for the Brazilian.

Rounding out the Middleweight bouts, shooto boxer Hiroyuki Takaya of Japan stepped in against mixed martial arts fighter Andre Dida of Brazil There was an intense staredown between these two at the press conference, the grinning Dida putting his face about as close to Takaya's he could without having to buy him dinner. They did something of the same during the referee's pre-fight instructions.

The boys began their dance by trading punches, and Takaya's nose got bloodied by a right uppercut, prompting a doctor's check. After resumption Dida was again furious with the fists, and managed a reversal after Takaya's single-leg takedown. When the pair got to their feet, time was again called to allow a look at Takaya's nose. This time the ringside doctor did not clear the Japanese fighter to continue, and Dida had the win.

Also on the card, Japanese judo stylist Yoshihisa Yamamoto speedily spoiled pro-wrestler Katsuyori Shibata's Hero's debut, dropping his compatriot with a right punch on a counter, then pumping in the fists to get the referee stoppage at just nine seconds.

In the undercard fights, Bernard Acka of Cote d'Ivoire dropped Shin Hyunpyo of South Korea with a high kick and slugged his opponent silly to force a referee stop and get the win; Masanori Kanehara beat Hadairo Tetsu by decision after the Japanese fighters entertained the crowd with a number of reversals; and belligerent Japanese fighter Hiroki Ozaki required scarcely a minute to submit countryman Masataka Chinushi with an armbar.

The Hero's Nagoya 2007 attracted a crowd of 7,910 to the Nagoya Rainbow Hall and was broadcast across Japan on the TBS Network. Contact local broadcasters for scheduling information in other locations. For official results and complete card and fighters' information for all Hero's and K-1 events, (including a complete archive of past events), visit the K-1 Official Website (www.k-1.co.jp/k-1gp)

(Source)