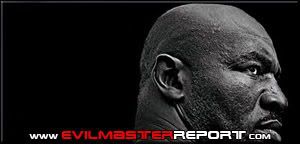 By Gillian Armstrong

Rumours have been swirling like tumbleweeds on downtown Calgary streets for the past few weeks regarding a possible mega fight (ok, mega for Calgary) coming to the city. Evander Holyfield, one of the sport's most recognizable and controversial figures is allegedly coming to Cowtown sometime this spring.

Jeff Popeil, Executive Producer at Calgary's Showbox Productions has confirmed to The Fight Network that he is "past the point of skirting around the possibility of it, but the truth is there is no deal in place."

Showbox Productions is best known for staging shows like Bjorn Again and The Pink Floyd Experience and has had no prior experience with boxing promotions. Popeil said that the show, if it happens, will be "a little bit non-traditional. There will be a whole bunch of boxing consultants involved. Who I am not at liberty to disclose, but they are involved in boxing in a huge way."

Popeil confirmed to The Fight Network that he has spoken directly to Kathy Duva, CEO of Holyfield's New Jersey based promoter Main Events regarding the fight.

Donald Tremblay, the chief publicist for Main Events was also not going into any more details just yet, saying that "the fight is a possibility but nothing has been confirmed."

Holyfield is a past Olympian and former world champion in both the heavyweight and cruiserweight divisions. The 44 year old has been no stranger to controversy in the past few years. He was placed first under a medical suspension by the New York State Athletic Commission in 2004, after questions were raised about his skills and performance. The NYSAC voted to change that to an administrative suspension in 2005, after Holyfield completed a series of medical tests and he has subsequently fought three times, his last on March 17 in Corpus Christi, Texas against journeyman Vinny Maddalone. The fight was stopped in the 3rd round by Maddalone's corner.