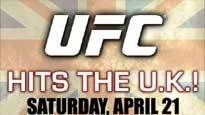 By Ivan Trembow

As previously reported by MMAWeekly.com, UFC 70 will be airing on Spike TV in the United States instead of airing on pay-per-view or HBO. The news was officially confirmed in an announcement by Spike TV earlier today.

Instead of airing live as previously planned, the event will air in the United States on a tape delay and will begin airing on Saturday, April 21st at 9:00 PM (Eastern Time/Pacific Time).

The six-figure cost of broadcasting live in the United States from an event in Europe was ultimately deemed to not be worth the expense, particularly since the ratings are likely to be higher in primetime. Most UFC fans in the U.S. will not be aware that the event is taking place on Saturday afternoon.

The event could have aired live on Spike TV on Saturday afternoon and re-aired on Saturday evening in primetime (as is the case when HBO Boxing broadcasts an event from Europe), but instead it will air only in primetime.

UFC 70 on April 21st was Zuffa's target date for the company's first show on HBO, but several sticking points prevented the two sides from reaching an agreement in time for UFC 70 to air on HBO, as we have previously documented extensively on MMAWeekly.

Zuffa also could not air UFC 70 on pay-per-view due to the fact that all of the PPV advertising deadlines for an April 21st event have long since passed, and Zuffa was confident enough that an HBO deal would be reached by this point that it never booked a U.S. PPV date for UFC 70.

This sequence of events left Spike TV as the only logical option as the U.S. home for UFC 70. The show is scheduled to air in the U.S. from 9:00 PM to 12:00 AM, although it could also run over the three-hour time period if events warrant.

The top four fights on the card are Mirko Cro Cop vs. Gabriel Gonzaga (with the winner fighting Randy Couture this summer), Andrei Arlovski vs. Fabricio Werdum, Ryoto Machida vs. Forrest Griffin, Michael Bisping vs. Elvis Sinosic.

A Spike TV spokesperson has confirmed to MMAWeekly that all four of those bouts will be airing on the Spike TV broadcast of UFC 70, and there is a possibility that a fifth fight will air as well.

For extensive details on how the deal came about for UFC 70 to air on Spike TV, along with the inside story of the numerous factors that are holding up a UFC-HBO deal, check out our previous story on this matter (see "Related Articles" below).