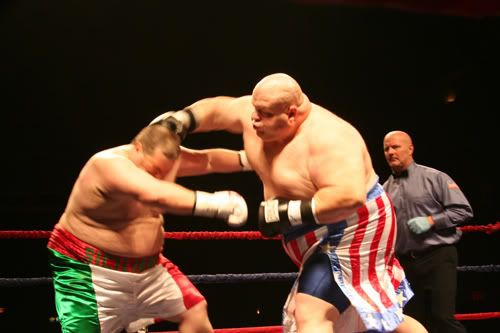 By Geno McGahee
Photos By Neil Vermette

The Worcester Palladium was jam-packed for a fight that was meaningless. The novelty of two obese warriors exchanging blows, the popularity of Butterbean, or perhaps the element of danger had brought these spectators. Despite all of the talk that Joe Siciliano, 4-4, 2 KO's, was dishing out the public and press, he was out of his league. He had stated that he would destroy Butterbean, 77-7-4, 58 KO's, but a quick poll of the press that attended could not disagree more. I had even heard that he was advised by his team to jab and move backward, but he is no Muhammad Ali and was sure to get leveled.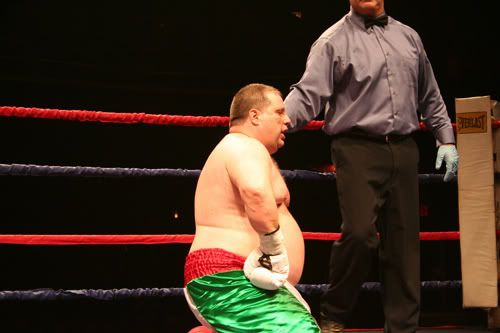 The main event began as a battle of bad 1980s songs with Europe's "Final Countdown" blaring for Siciliano and Queen's "We Will Rock You," for Butterbean playing. The crowd was in an uproar as they saw these two rotund pugilists stare at each other. Butterbean weighing 417 ½ pounds and Siciliano weighing 313 ½ pounds, this was surely one of, if not the, most weight ever to grace a boxing ring.

When the bell rang, you could see the difference in class. Siciliano just wanted to hold and Butterbean nearly ended it with a left hook, sending his opponent into a momentary stupor. He seemed to be shocked that he was facing such an inept opponent and elected to take it easy on him. The power shots that Bean is known for were in reserve and he decided to just throw body shots at the delusional Siciliano. The body shots were enough to send Joe to the canvas for the first time in round one, but surprisingly, he survived and even celebrated that he would see round two.

In round two, the body-beating continued, as Bean toyed with his opponent. It reminded me of a father getting on his knees to fight his young son to make it even. He looked at Siciliano as such a far lesser that he was somewhat willing to allow him to do what he wanted and to make a show of it. The clubbing body shots that didn't look particularly great were enough however to end this bout at 1:10 of the second round. I overheard the referee stating: "What a disgrace!" That seemed to be the crowd's opinion too as they booed their hometown boy loudly. What did they expect though? I know that Siciliano had been campaigning and stating to anyone that would listen that he was going to beat Butterbean. Perhaps the people allowed themselves to be fooled and when Bean weighed in so heavy, I'm sure that they expected the upset to be in the cards. That was just wishful thinking because Siciliano could not beat Butterbean if he had both of his arms cut off.

The win doesn't do anything for the Bean, outside of putting twenty grand in his pocket. He was not awarded the Central Massachusetts Heavyweight Championship that was held aloft so proudly by team Siciliano, and he will not be doing too many more boxing events as it is. It should be a boxing rule that if you come to the ring waving around a title that you will be forced to put it on the line. I have heard that according to the Central Massachusetts Rule Book, it is only a defense if Siciliano wins. In my opinion, Butterbean is the uncrowned Central Massachusetts Heavyweight Champion.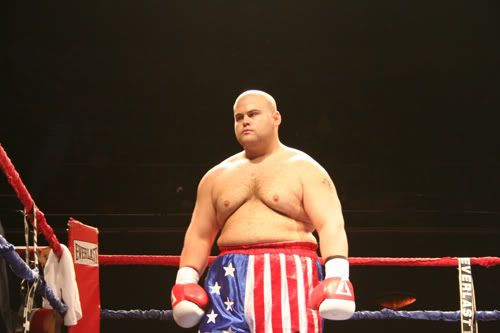 Baby Bean

Butterbean stated that he is moving on to Japan to compete in the MMAs, where they pay him a boatload of money. As for his opponent, I think that we will see him again. For one reason or another, he has a fan base in the New England area and he might use that to obtain another crack at a recognizable name. I hope that he does hang them up at this point, considering his age, and the fact that he is going to get himself hurt one of these days. He is lucky that Butterbean took it very easy on him.

Another novelty on the card was "The Son of Bean," or "The Bean," the son of Butterbean against Matthew Eckerly, both making their pro debuts. The Bean looked nearly identical to his father and even sported the same trunks. Eckerly was muscle bound, but the majority expected the youngster to take him out with relative ease. I discovered after the bout that Eckerly was actually hand picked by Butterbean, SR., believing that his son could easily beat this guy. He may have been able to easily dispatch Eckerly to the canvas, but the Bean seems to fall far from the tree.

After thirty seconds, it was obvious that The Bean was uncomfortable and had lost the confidence that he came into the ring with. At only 21 years of age, he had some big shoes and trunks to fill, and anxiety seemed to be his biggest enemy in the ring. Eckerly looked relatively relaxed, but he was a wild-swinging, relatively unskilled fighter. However, one of those wild swings, a looping overhand right sent "The Bean" crashing to the canvas and out. It was a scary scene as he lay there motionless. Being right on the ring, I heard the amazingly loud crash and the shot that put him on the floor. He was leveled.

For ten minutes he was on his back, being attended to by ringside physicians, and was even given oxygen. He eventually made it to his feet getting the applause of the entire arena. The Bean found out that this is a tough game and not everyone can hack it. The torch of "King of the 4 Rounders" will have to be passed to somebody else. I think that this was the last time that we will ever see "The Son of Bean," and judging by Butterbean's reactions, I don't think that he will allow his young son to lace them up again.

Sean "Fitzy" Fitzgerald debuted Chuck Shearns, a middleweight hopeful, against Patrick Bozeman, 0-3. Fitzy was not taking any chances as Bozeman's prior two defeats have been by first round stoppage, but Shearns did show some promise. He used body work and showed some decent defense as he slipped and dipped under punches. Bozeman was very awkward and didn't really seem to have his heart in it and he posed and walked away from Shearns sort of the way that Oliver McCall did when he faced Larry Holmes in 1995. A body shot in round 2 would drop Bozeman to the canvas and out of the fight.

Super middleweight Andrey Nevsky wasn't taking any chances in his pro debut as he faced Montez Wilson, 0-9. I had seen Wilson fight Gerry Grealish last year and he is a no-hoper without a doubt. He should not be fighting but he does and many newbies to the sport quickly choose him as the first victim to pad their record. Nevsky came out holding a sledgehammer, which was amusing, and climbed into the ring, enjoying every moment of his debut. He enjoyed it even more as he stalked Wilson, working the body, and eventually crumbling him to the canvas in the second round.

Chris Traietti, 6-0, 4 KO's, maintained his padded record by stopping Israel Figueroa, 6-19-4, 1 KO, in the second round. Traietti was confident, but up to this point, he has not faced anyone with a winning record and is basically in the mode of beating below average competition to boost his confidence and record. Figueroa fought hard, but was out of shape and didn't have the defense to stop the incoming punches. In the second round, a left hook to the body ended his night.

The final professional bout of the evening was a contest between Luis Viramontes and Olade Thomas, two fighters making their pro debut. It was an awkward affair with neither man particularly winning the audience over, but Viramontes with his wide and looping body shots seemed to take every round. All three judges scored it for Viramontes, 39-37, while RSR had it 40-36.

Opening up the show we had three exhibition fights. They were three-2 minute rounds. In the opener, Sean Fitzgerald's fighter, Keith Bianchini took on Chris Richardson from Team 401. It was a one-sided with Bianchini dishing out a great deal of punishment before the referee saved Richardson. I thought that Fitzy was going to come out of retirement and take on all three members of Team 401 as they approached him, obviously upset about the outcome. RSR caught up with Sean Fitzgerald about the situation and he stated: "They thought that I brought in a ringer. I told them that he had power." They should have realized that they were all winners because in these exhibitions they called them all a draw.

Rick Rushton, a Mayoral candidate for Worcester, took on Kaven Carlo. Rushton was announced as "The Next Mayor of Worcester," and showed a lot of heart and some skill to control his smaller opponent. It was a bloody fight with both suffering bloody noses and taking some big shots. Rushton decided to show the world that he is willing to fight to become Mayor and proudly sported his "Believe in Worcester" shirt. At this point, I would pick him to defeat most politicians. Perhaps he can start with an early KO of Mitt Romney. Now that I think about it, this may be the best way to determine just who should win elections. Winning a presidency by KO does not seem like a bad idea.

City Councilman, Joff Smith, faced Wayne Hornois in the final exhibition. Hornois came in with some mixed martial arts experience, and used it to control the fight. Both men took some punches and gave some, but Hornois seemed to run away with it, but it was another draw.

Some notables in the audience were Roy "House of Pain" Payne, John "House of Rain" Rainwater, Jaime Clampitt, and 3-Time World Champion and RSR Feature Writer, Jose Antonio Rivera.

I want to give credit to Paxton Entertainment for putting together a great event, and for also granting permission to bring Butterbean to RSRTV. I also want to personally thank Sean Fitzgerald for his efforts. In the near future, be prepared people because you will see this event on RSRTV.

(Source)