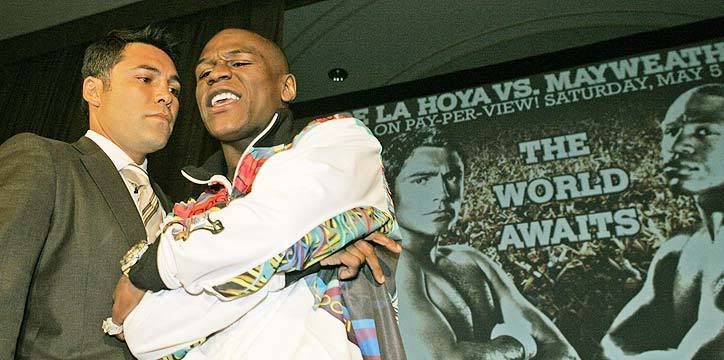 By Robert Morales

Oscar De La Hoya had that look last Wednesday. The same look he had during Los Angeles news conferences promoting his respective fights with Fernando Vargas and Ricardo Mayorga.

They talked long, harsh trash to De La Hoya. Both, you might say, crossed the line with their mouths. In the case of Vargas, he even started a fight with De La Hoya at a news conference formally announcing their September 2002 fight. After formally announcing their September 2002 fight. After they were separated, Vargas yelled at De La Hoya at the top of his lungs. The veins were bulging in Vargas' neck.

De La Hoya, with that look in his eyes, smiled and mouthed these words: "I'm going to kick your ass."

De La Hoya stopped Vargas in the 11th round. De La Hoya stopped Mayorga in the sixth round last May.

Here is the thing: Mayweather claims to be a throw-back fighter. He boasts about being smart in the ring, and about being the greatest fighter in history. Yet he has been foolish enough to get under the skin of just the man who will take that kind of disdain and turn it into a tremendous victory.

Count on it. All Mayweather's talk has done is light a fire under the wrong fighter. Some fighters don't do well under those circumstances. De La Hoya thrives in this situation.[EP
So there De La Hoya was last Wednesday in Hollywood, minutes removed from another trash-talking news conference promoting his May 5 super welterweight mega fight against Mayweather at MGM Grand in Las Vegas. And there was that look, the one he gets when a fighter has done more than just rub him the wrong way.

"I don't think he has a clue of what he's doing," De La Hoya said. "I was praying he would talk all the trash he's talking now because I obviously need this. And I got it. And now I can go happy to Puerto Rico and start training really hard.

"Guys like Mayorga and Vargas, they take me to another level when they talk all that trash. It's just a whole new level."

De La Hoya was asked, of the three trash-talkers, which is worst. Considering that Mayorga was even more brutal than Vargas, it was surprising to hear De La Hoya's response.

"Number one, right there," De La Hoya said, pointing to Mayweather seated at a distant table at historic Roosevelt Hotel.




De La Hoya said he believes that the reason Mayweather is talking so much is because he isn't handling the pressure of what is going to be a record-breaking fight very well.

"It's annoying," De La Hoya said. "I mean, obviously, you can see how nervous he is. He's so antsy. That's what happens. I mean, when you are under the big lights and big stage, it makes you tighten up a bit."[

Mayweather paints a different picture. He said that De La Hoya's Golden Boy Promotions, this fight's lead promoter, treated the Mayweather camp like crap during the press tour.

"For starters, they accused me of stealing some food," Mayweather said. "I'm like, 'I'm a multi-millionare, I don't have to steal nothing from you guys.' I've got my own money, I've got my own mansion, I've got my own car, I've got my own staff, I have my own building and I have my own company.

"And they accused us of stealing food. They accused us of stealing gloves."

When told of Mayweather's account of things, De La Hoya just shook his head and laughed. He said that "we," meaning Golden Boy, had to give Mayweather a "time out" for some of his shenanigans during the press tour.

"We told him, "Look, hey, you can do all that talking, but don't disrespect,' " De La Hoya said. "He was just, I don't know. ... It's the nerves. You know, he just gets too emotional."

De La Hoya said Mayweather needs to "take it easy, relax." But Mayweather was not in a relaxing mood last Wednesday. During his time with reporters, he blasted De La Hoya for a number of things. In particular, he was not thrilled with De La Hoya's treatment of his father, Floyd Sr.

Floyd Sr. had trained De La Hoya for almost six years. But the two parted ways for this fight. Floyd Sr. said it was because De La Hoya didn't want to pay him $2 million to train him to beat his son. De La Hoya said that, more than anything, he just wanted to make sure he was being trained by someone who had the same goal as he does - to knock out Floyd Jr. De La Hoya said he wasn't sure that would be the case with Floyd Sr. in his
corner.

"My dad has been underpaid the whole time he was with Oscar," Mayweather said. "That's not right, man. I'm not the judge. When judgment day comes, he's gotta answer to the big man. My dad was good enough to help him in so many big fights. Now that you get to the biggest fight in history, and my dad is not good enough to work his corner. He is selfish and he is ungrateful

Mayweather also called De La Hoya a cheapskate of a tipper, and a man who will shake another man's hand and turn around and stab him in the back. De La Hoya is also fake, Mayweather said.




In other words, in the eyes of Mayweather, De La Hoya is just a bad guy.

"He can talk whatever he wants to talk," De La Hoya said. "If I'm a bad guy, if he says so, then I'm a bad guy. What am I going to do? But now that we are finished with the whole tour, I'm really anxious. I can't wait to start training and just prepare.

"I'm a fighter. This is what I live for, events like these, trash-talkers like Mayweather. I really can't wait. It is going to bring out the best in me."

De La Hoya's best will be the result of Mayweather's mouth. Had Mayweather not crossed the line with it, the pick here would be Mayweather.

But this reporter has seen this De La Hoya look twice before. De La Hoya will win this fight. More than likely, by late-round stoppage. And it will be the left hook that will get the
ball rolling. That's the same punch that crushed the respective faces of Vargas and Mayorga on their way to la-la land.

(Source)