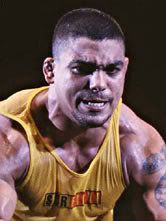 In an interview with Tatame Magazine, Paulo Filho expressed that he is unsatisfied with the way his career is going, and the way he is currently being treated by PRIDE Fighting Championships. He says he has his eye on America.

"I feel that PRIDE is finished, but my career is just getting started"..."A friend of mine from the states told me that I have lots of fans there, and would be excepted well, I am thinking of going there."

(Source)
Evil Note: Dana!...Open your cheque book!